Flexible credit card plans
Low-interest starting from 19.9%
Repayment up to 31 months
In-page navigation
---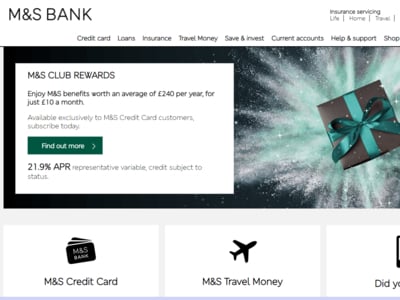 About M&S Bank
Most people find credit cards, credit scores and the penalties that come with late payment extremely intimidating.
Credit cards can be a savior when you need to make a big purchase, but it can be your downfall if not repaid on time. Here is all you need to know about credit cards uses and options at M&S bank.
Make purchases and pay for them later
A credit card allows you to borrow a sum of money, and then you need to repay what you owe over a certain period. There is also a minimum payment per month that you need to make to keep a good credit score. They work well for unexpected significant expenses such as car repairs, as most people don't have enough money to pay the total amount without using some form of credit.
Learn more about credit card eligibility
Some factors determine who might be eligible to have a credit card, the most important one being a good credit record. It will be challenging to get a credit card if you have missed payments towards other forms of credit in the past. If your credit record looks good and you can provide the required additional proof of income and bank statements, then your application will likely be accepted.
The information of the client determines the credit card limit and the repayment terms. Upon making the first purchase on the card, clients need to repay that amount by either making regular payments or one large payment.
M&S Bank Services
If you are interested in getting a credit card and it's your first time applying for one, the process might seem quite daunting.
There is no need to worry because the process is relatively straightforward. The first and most important thing is that clients need to be eligible for a credit card upon applying; clients who have never had bad credit will find it easy to be accepted. M&S Bank's official website has an 'eligibility checker' that helps clients work out if they are eligible to apply for a credit card.
What you need to know about APR
APR is a standard way of showing how much clients will have to contribute to borrowing money against credit. This includes the interest rate on the money borrowed on the card and charges, such as the annual fee related to having the card.
Clients need to pay the APR on top of the amount borrowed, and it is legally required of any lender or bank to show how much you pay towards it. M&E Bank provides their clients with exactly how much as soon as their application gets approved.
Shopping plus offer
This card offers clients the chance to pay 0% interest on shopping and balance transfers for 20 months. The offer is available for 90 days from the opening of the account.
A minimum 2,9% APR fee applies, which is on average 5 pounds. You get rewarded M&S points every time you shop, which then later turn into vouchers.
M&S Bank Product Details
Loan Type

Credit cards

Interest Rate

19.9 – 21.9% p/a

Repayment

12 months to 31 months
Summary of Services
A transparent credit card
Competitive interest rate
Fast online banking
Get a credit card that keeps up with the times
A credit card uses revolving credit, which means that your credit is renewed once you pay your debt.
Each client's credit limit differs, but everyone can borrow money until they reach that specific worked-out limit. Once they pay off some or all of the debt, they can borrow money again when needed. A loan is a set amount borrowed to make a large payment towards the property, a vehicle or even studies. That amount then covers the purchase, and the client needs to repay what the borrowed monthly and usually a set amount. You cannot make various purchases with a loan.
Enjoy protection against fraud
Credit cards have strict consumer security systems that monitor card payments to protect clients against fraud in cases where cards, or even just information, get stolen. Section 75 of the Consumer Credit Act stipulates that the card provider is as liable as the cardholder if something goes wrong with a purchase. Clients have an extra sense of protection when making purchases with a credit card in the UK.
0% interest charged
Clients receive an interest-free period on purchases if they repay what they owe early. The interest-free period depends on the type of card. To save on interest, make sure to make your minimum repayments, as this allows you to keep your promotional interest rate.
Build your credit score
Credit cards can significantly affect your credit score if you keep up with minimum payments requirements. By maintaining monthly repayments, it shows lenders that you are reliable and can cover your debt. With a good credit score, it becomes easier to get access to mortgage loans and better interest rates on these loans.
Be rewarded for making purchases
M&S Bank rewards its clients for using their credit cards for spending. Each purchase on the card earns you points which get converted into vouchers that can be spent in-store or online at M & M & M&S.
M&S Bank r

ewards offer

This card has a special offer where clients can earn double M&S points on shopping and pay 0% towards interest towards it for the first 12 months. Clients also pay 0% towards balance transfers for 12 months, which is valid for 90 days from account opening ( 2,9% APR fees apply).
Transfer plus offer
This card has an offer where clients are charged 0% on transfers for 29 months, and it's available for 90 days from the day the account opened. 2,75% APR charges apply, which is a minimum of 5 pounds, to have this account. You can also do shopping interest-free for three months and get the chance to earn M&S points every time you shop.
Customer Reviews & Testimonials
"
This has been the best bank I have used. Easy to use online banking, and I always get through to someone quickly on calls. Customer service has been excellent.
Begum N
— London —
They have the most accessible website and most competitive offers. I have various accounts with them and recently even bought a policy through them.
Jones D
— Essex —
There is always someone friendly on the phone but also in the bank. The staff are accommodating and will do whatever they can to get you what you need.
Gray J
— Bristol —
M&S Bank Contact Details
Contact Number
E-Mail
Website
Physical Address
Marks & Spencer, The Mall

Patchway

Bristol

BS34 5QT

United Kingdom
---
Postal Address
PO Box 10565, 51 Saffron Road, Wigston , LE18 9FT, United Kingdom
Opening Hours
Monday

10:00 – 16:00

Tuesday

10:00 – 16:00

Wednesday

10:00 – 16:00

Thursday

10:00 – 16:00

Friday

10:00 – 16:00

Saturday

– Closed

Sunday

– Closed