Low interest rates
High credit amounts
Flexible repayment plans
In-page navigation
---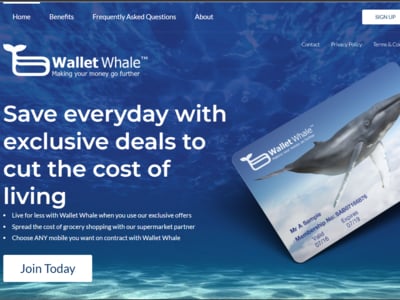 About Wallet Whale
Wallet Whale credit card provides clients with an easy way to save by offering discounts on grocery shopping, savings on the high street and exclusive travel offers.
They offer a unique line of credit that help clients cover expenses and earn benefits while spending. Wallet Whale was founded in 2020 by Yes Solutions, and now they are a leading shopper's companion of choice in the UK.
Get rewarded for using your credit card
Clients get rewarded for using their Wallet Whale card to do their spending. These rewards empower members' lifestyles with a variety of discount facilities and benefits. As part of their membership, clients are granted premium access to 3rd party grocery shopping free of charge.
Wallet Whale takes client privacy seriously
The company understands that clients' privacy is critical, and they take care of how personal data gets used online. They only collect and use personal data in ways described by the website, their website is consistent with their obligations as a company and the client's rights under the law.
The Wallet Whale mobile app
Clients can now access all the information they need about their best credit card in the UK and special deals with the Wallet Whale mobile application. It is free to download on the Apple application store and extremely user-friendly.
Wallet Whale Services
Clients can now make every meal a special occasion with their exclusive membership package to Flavva food, on credit, with Wallet Whale.
With the exclusive benefits, they also receive access to discounted grocery items for being a member.
Stand a chance of saving £1800 annually
The average money each person spends on day-to-day purchases doesn't represent good value for money. Wallet Whale credit card allows clients to have access to thousands of discounts from various suppliers. Clients can now feel sure that they will get their value for money every time they purchase with a wallet whale.
Get access to 200 high street stores
Money goes further when out shopping with a Wallet Whale credit card. It gives clients exclusive access to the best prices in over 200 stores and eateries across Britain High Street and online. They also get access to the Wallet whale online hub portal, with a vast array of online discounts updated daily.
Where you can use the Wallet Whale
Visit the online hub to access all the information about the current savings and bonuses available on the market. Clients can now download their app from the apple store. Wallet Whale credit card can be used to earn savings on dining out, shopping, garden and home and more.
Wallet Whale Product Details
Summary of Services
Low-interest rates
High credit amounts
Flexible payment plans
Wallet Whale - get rewarded for saving
Wallet Whale is a subscription-based membership, meaning that anyone willing to pay the subscription is eligible for this service. To join costs £34.99, then a monthly fee of £19.99 after that.
Why can choose Wallet Whale
As soon as clients apply for their credit card, they start saving on purchases, which can go up to £150 per month and more. They have access to hundreds of exclusive customer savings and perks. Their consultants deliver expert customer services six days a week from 9 to 6 and answer any questions clients have about their services.
More than just a credit provider
Wallet Whale helps clients save on more than just groceries and shopping:
Clients have the chance to upgrade their holiday travel, accommodation, experiences, and insurance. As soon as they register, they can visit the Wallet Whale Hub portal to access various deals and discounts.
Get a new mobile contract with guaranteed acceptance with one of their exclusive partners.
Clients can now get access to a vast range of health and fitness products.
Redecorate your home and garden with exclusive membership deals to home essentials.
Apply online in less than five minutes
Clients can apply for a loan online from the comfort of their homes. All that is needed to apply is a laptop or computer and an internet connection. Only basic information is required, and clients can feel safe knowing that their info won't be shared as the website is secure.
Get refunded if membership is cancelled
The company understands that their service might not work for everyone, so they provide clients with the option to cancel within 14 days and get their subscription fee returned. They want everyone to have the chance of trying their services, obligation-free.
Customer Reviews & Testimonials
"
Wallet Whale helped me save on all my shopping by showing me the best deals. I recently also used discount travel through them, which saved me money on flights. Thank you for your service.
Kriel D
— London —
Anyone looking for a good bargain every time they shop should try Wallet Whale. You can find hundreds of deals on their mobile app and also do online shopping! Thanks for the very convenient serv...
Conradie C
— Essex —
The Wallet Whale staff are amicable and professional. They answered all my questions about the phone contract I got through them and helped me understand every step of the process.
Black M
— Essex —
Wallet Whale Contact Details
Contact Number
E-Mail
Website
Physical Address
Coach-house, Studio Annexe, Kings Raod

ST Peter Port

Guernsey

GY1 1QA

United Kingdom