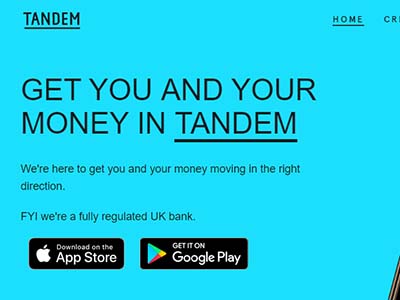 About Tandem
Tandem is a bank that's rooting for you. We offer you credit cards and fixed savings financial support.
We strive to do more to help customers avoid unfair and unnecessary banking fees and charges. As such, we really don't want to make money from your past mistakes and so we've designed and built a business that makes money when our customers do well.
Convenient online loans
We are able to assist you with financial solutions online using our Tandem App or feel free to contact us Monday to Friday from 8 am to 8 pm. In addition, our phone lines are also open over weekends for credit card support. In the event, your card is lost or stolen call us 24/7 and select option #1.
Affordable credit cards
Tandem Money Limited was instituted by Ricky Knox, Matt Cooper and Michael Kent in 2013. We currently offer customers a credit card and fixed-term savings accounts. We have had a banking license through our subsidiary Tandem Bank Limited, formerly Harrods Bank Limited, following the acquisition in January 2018. We are thus known as a challenger bank in our industry.
Tandem Services
We offer you a credit card for spends at home and abroad.
Most people will be offered: 18.9%, annual purchase rate (variable). Of which based on an assumed credit limit of £1,200. Take note, you may be offered a different credit limit or APR to that shown here, as it depends on your personal circumstances. All subject to your eligibility and credit assessment.
Journey credit card
This card is designed to help our customers build a healthy credit history, with no purchase fees when spending abroad. And a 24.9% APR (variable, representative). Our initial credit limit ranges from £150 to £1,200. Best suited for credit card users with limited credit history
Cashback credit card
You earn 0.5% cashback on worldwide purchases, in addition, no fees on spends whilst travelling abroad. An APR of 18.9% (variable, representative) applies, and we offer you an initial credit limit ranging from £500 to £12,000. Best suited for credit card users with good credit history.
Summary of Services
Credit Cards
Car Loans
Personal Loans
Home Loans
Debt Consolidation Loans
We've got the right credit cards for you
We require potential customers to meet our minimum criteria prior to considering taking out a loan with us.
You can still apply for a credit card if you have a bad credit history.
In order to apply for a credit card, you should meet the following criteria:
• Must be 18 years old or older
• Currently, have a UK address plus proof of three years address history in the UK
• Hold a UK current account
When you chose us, we offer you the following:
Interest rate: An interest rate of 18.9% per anum (variable) for purchases18.9% per year (variable), including cash withdrawals. As such your final interest rate may be higher based on your individual circumstances
Cashback - With us, you earn 0.5% on every purchase above £1 spent in the UK and across the globe
No Fees Abroad - There are no fees for making purchases while abroad, however, we still charge interest as normal.
Cash Withdrawals - Interest is charged from the first-day you withdraw cash in the UK, and/or overseas. In addition, when in the UK we charge a fee of 2.5%, with a minimum charge of £2.50. And, best of all no fees for withdrawing cash abroad. We charge a £12 fee if you make a late payment, or your payment fails.
Late Payment Fees - To begin the process of applying for a journey or cashback card, we require you to meet our minimum eligibility criteria, which must be met before we can asses your application.
We offer a variety of loan options
Personal loans - we offer a variety of personal loans with low-interest rates
Car loans - Our car loans can help you buy that new car you have your eye on. We offer flexible repayment terms
Debt consolidation loans - With this loan option, we can help you consolidate your debt onto one affordable monthly payment. We will negotiate better terms with your creditors and stop harassment over unpaid bills.
Customer Reviews & Testimonials
"
Their Tandem app was really convenient
Victor D
— London —
They had no extra fees charged when I was shopping abroad
Edward O
— Brighton —
Tandem Contact Details
Contact Number
E-Mail
Website
Opening Hours
Monday

09:00 – 17:30

Tuesday

09:00 – 17:30

Wednesday

09:00 – 17:30

Thursday

09:00 – 17:30

Friday

09:00 – 17:30

Saturday

– Closed

Sunday

– Closed