Compare credit cards
0% interest credit cards available
Low-interest starting from 9.9%
In-page navigation
---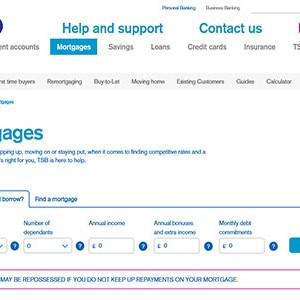 About TSB
TSB is a financial institution based and operating in the United Kingdom.
We provide local banking services for the people of Brittain, businesses and communities so that they shall to thrive together. It's not always obvious what goes on in banks, but with us, we have nothing to hide.
More about us
At TSB, we offer a wide range of personal loans, short-term loans and credit cards to match every customer's needs. However, before proceeding with any of our great product offerings we require any new customers must be 18 years or older and must be a UK resident. Take note, all lending is subject to status and the actual rate offered will depend on our assessment of your personal circumstances.
Affordable interest rates
The maximum APR we might offer is 30.0%, but we will show you your personalised rate before you apply. We act responsibly and with transparency. We do this because our customers have the right to know what we do with their money.
TSB Services
We have a range of credit cards, each designed to match your personal circumstances.
Platinum 20-month credit card
Platinum offers you our longest ever 0% on purchases. You get up to 20 months interest-free on your purchases and balance transfers made within the first 90 days of account opening. 0% for 20 months on purchases, thereafter pay 18.94% p.a. (variable). Plus, a 2.95% balance transfer fee applies during the first 90 days
Student Mastercard credit card
This credit card is available to TSB student current account holders who are 18 years or over. Only pay 19.94% p.a. (variable) on all purchases. Only pay 19.94% p.a. (variable) on all balance transfers
Platinum 28-month credit card
This card is not currently available. Pay 0% for up to 3 months on purchases, thereafter 18.94% p.a. (variable). Pay 0% interest for up to the first 28-months on balances transferred within your first 90 days of account opening. Only pay 0.50% balance transfer fee during the first 90 days
TSB Product Details
Loan Type

Credit cards

Interest Rate

from 9.9%
Summary of Services
0% balance transfer period of 27 months
0% on purchases offer
Internet Banking
We provide access to affordable and reliable credit cards
It's important to us that however you choose to bank with us, we give you the best service possible.
That's why we support font size, cursor adjustments, magnification as well as screen readers. In addition, all of our telephony services offer BT TextDirect and if you need to pop into a branch, you'll find induction loops to assist you. Chat to our branch locator who can help you find your nearest accessible branch.
Features to help you stay in control
You choose how to manage your account whether online, by phone or at a TSB branch – the choice is yours
We can set up a direct debit for your peace of mind
Take control of your account with our mobile app it's easy to use and convenient for your busy lifestyle
Our online banking services allow you to check your latest balance, search your statements and even apply for new accounts
You can use your credit card abroad wherever you see the Mastercard logo
The advance Mastercard
Currently not available. Pay 0% for 3 months on purchases thereafter only pay a low rate of 7.94% p.a. (variable). Pay 0% for 3 months on balance transfers made within the first 90 days. Plus, 0% balance transfer fee during your first 90 days
Existing cardholder rewards
Do you already have a credit card with us? You may be able to take advantage of an exclusive balance transfer offer, find more information on our website.
We offer assistance
We also offer hearing assistance, mobility assistance, visual assistance and any other special assisted needed to make your banking experience easier and better. Talk to us about debt consolidation if you feel like you have too much debt. TSB understands your financial needs.
Customer Reviews & Testimonials
"
I was able to manage my card from my phone, which is extremely convenient
Gary G
— Bath —
They provided quality assistance when I was having trouble with transferring my balance
Mathew
— Leeds —
I was surprised to see I could use my card abroad.
Clint R
— Cambridge —
TSB Contact Details
Contact Number
E-Mail
Website
Physical Address
404 Bethnal Green Rd

London

E2 0AH, UK

United Kingdom
Opening Hours
Monday

09:00 – 17:00

Tuesday

09:00 – 17:00

Wednesday

10:00 – 17:00

Thursday

09:00 – 17:00

Friday

09:00 – 17:00

Saturday

09:00 – 13:00

Sunday

– CLOSED