Make a credit card comparison
Interest rates are low
Low-interest starting from 18.9%
In-page navigation
---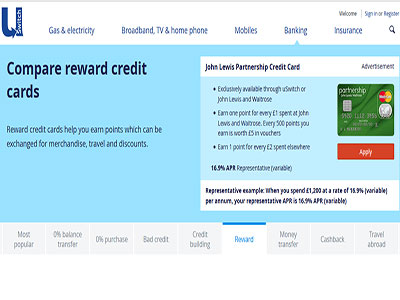 About uSwitch
uSwitch is a comparison and switching service that helps you to compare prices on a range of products and services.
Our services can be accessed digitally and via the telephone. We aim to help you take advantage of the best prices and services on offer from our suppliers.
How do we work?
We have commercial agreements in place with some suppliers across all our services. We then charge suppliers a small fee when we switch customers to them, as such we can, therefore, offer consumers a free service. In some instances allowing us to negotiate exclusive deals that are not available directly from the supplier.
What is a credit card?
Credit cards are a way of borrowing money to pay for your bills, goods, or services. And once you've reached a pre-approved credit limit also known as 'maxing out' point – then you won't be able to spend any more on the card until you've paid off some of the debt. It's really that simple. Each month you are required to pay off at least the minimum amount of what you owe on the card. Take note, if you don't pay this you'll soon begin to pay interest on what you've borrowed.
uSwitch Services
We have a wide range of credit cards on offer suitable for your individual needs.
A credit card can help you spread expenses over an extended period, or buy a new car or finally go on that holiday you always dreamed of. We also have a range of short-term loan options.
Credit card eligibility checker
Simply answer a few questions to see if you are likely to be approved for a credit card
By using the eligibility checker you reduce the chances of being rejected for credit cards and potentially damaging your credit score
This will not affect your credit score
What is a credit card eligibility checker?
Our eligibility checker uses the information you have provided to run a 'soft' credit check which then estimates the likelihood of you being accepted for a particular credit card. Best of all it won't leave a trace on your credit score.
To use the eligibility checker you must be18 years and over and currently have a valid UK address, in other words, be a UK resident.
uSwitch Product Details
Loan Type

Credit cards

Interest Rate

from 18.9%
Summary of Services
Card rewards
Cards for people with bad credit
0% balance transfer
We strive to help our customers find the best product for their individual needs
We don't mind who you switch to, we only care that you switch to the best-suited deal for you.
We also have received recognizing for our services and winning awards thereof. Rate changes are updated immediately to ensure our results are accurate. We aim to cover the entire market but only compare products from suppliers we have a relationship with. We can supply you with credit cards, personal loans, and current accounts.
We give accurate and comprehensive information
All data used to calculate your results for these services is provided directly by our suppliers. We monitor all suppliers continuously and thus update our site regularly to ensure our results are comprehensive and accurate. In addition, we are accredited by Ofgem under its Confidence Code, which requires comparison sites to provide their services in an easy, reliable and reassuring way.
Here are our most popular credit cards:
Barclaycard Platinum Purchase - 27-month purchases and 27 months balance transfer
Sainsbury's Bank Credit card – 30-month balance transfer period
Santander All-in-one – 30-month balance transfer credit card
Virgin Money all-round credit card – 26 months balance transfer duration
Santander Everyday credit card – 27 months balance transfer duration
American Express Platinum Cashback everyday credit cards – 0 months balance transfer fee
Virgin Money Balance transfer credit card – 28-month balance transfer duration
British Airways American Express credit card – 2018 award-winning credit card of the year
Aqua reward with cashback – 0% interest on balance transfers
MBNA All-round credit card – 0% interest on balance transfers
Hitwise UK top 10 award-winner
We were ranked the top website by Hitwise in the 'Business and Finance - Utilities' category in 2012 and number 2 in 2009-2011. The Hitwise Awards acknowledges online leaders from over 160 different industries.
Whether you're looking for a cashback, rewards card, 0% on purchases or balance transfer, finding a great credit card deal is simple with uSwitch.In addition, compare credit cards to use abroad, cards with low APRs, and the top credit card deals for people with a bad credit history. Simply use our tabs to pick a type of card and thereafter scroll our comparison tables to see the best credit card deals.
Customer Reviews & Testimonials
"
Their eligibility checker helped me find out if I was able to get a credit card!
Amber S
— London —
Great services! They really informed me about how everything works
Derek L
— Leeds —
uSwitch Contact Details
Contact Number
E-Mail
Website
Physical Address
5 Copper Row

London

SE1 2LH, UK

United Kingdom
Opening Hours
Monday

08:00 – 21:00

Tuesday

08:00 – 21:00

Wednesday

08:00 – 21:00

Thursday

08:00 – 21:00

Friday

08:00 – 20:00

Saturday

08:00 – 18:00

Sunday

10:00 – 16:00