Card member rewards
Poor credit
Low-interest starting from 21.9%
In-page navigation
---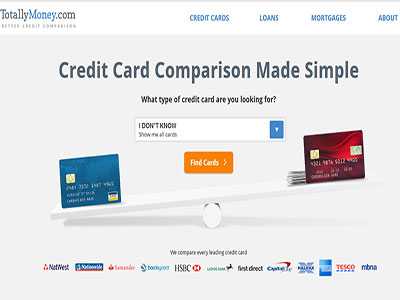 About Totally Money
Totally Money is the UK's credit eligibility and comparison specialists, more importantly, we're committed to helping you get accepted.
Applying for credit was once an over-complicated process unfairly weighted in favour of the lender however, today this process is faster and fairer. As such, we've built a free credit card comparison and eligibility checking service that puts you in control.
We keep things simple
This means you can now compare credit cards from the UK's leading lenders, and check your eligibility to see a personally tailored acceptance likelihood for every credit card. It goes without saying getting credit can be complicated, however, our services have been designed to make it as simple as possible for you. With our advanced tools, you can instantly compare credit cards and loans in seconds.
We are experts in our industry
We are completely focused on credit as such, it's all we do therefore we do it better. That's why we are constantly working to bring you the best tools, market coverage as well as expert help and insights. We have a wide variety of financial solutions including car loans and bad credit loans.
Totally Money Services
Our credit cards and loans will always be at the same or better rates than going direct to the lender.
With us, you'll never pay more and we are often able to negotiate exclusively with the lender, only for our users.
Finding the right credit card
Check your eligibility - Simply answer a few easy questions and our free eligibility checking tool will instantly match you to the cards or loans most likely to accept you.
Compare - Thereafter, you will be shown an individualized selection of credit cards or loans, with the lenders most likely to accept you at the top of the table. In addition to this, you'll see your percentage chance of acceptance for each option displayed.
Apply - Then, look for the card or loan that best suits your needs and apply with confidence – it's really that simple.
Bad credit options
For people with bad credit, beat the rejection and build your credit with us
Chrome – maximum credit £1,000
Aqua Classic – maximum credit £1,200
Marbles Classic – maximum credit £1,200
Aquis Visa card – maximum credit £1,000
Totally Money Product Details
Loan Type

Credit cards

Interest Rate

from 21.9%
Summary of Services
The credit score is not affected by applying
Responses are immediate
Before applying check approval
Totally Money offers you credit cards and so much more
We display to you exactly how much you could save with us.
In addition, our balance transfer calculator takes all-fees into account, whilst our reward and cashback calculator shows you a monetary value for all rewards you could earn on your spending.
Balance transfer credit cards
We offer a range of balance transfer credit options, here are our most popular
Santander All-in-one – 30-month balance transfer duration
Santander Everyday credit – 27-month balance transfer duration
Virgin Money credit card– 28-month balance transfer
M&S Ban credit card – 29-month balance transfer duration
MBNA All round credit card – 28-month balance transfer period
Halifax 28 Month – 28-month balance transfer duration
We are 100% free
When we say free, we really mean free. With us, there are no hidden charges and no sneaky small print – only clarity. We promise to provide you with a free service so when you click through to apply for a card, where possible, we will receive a commission.
How we help you?
We are here to help you get the credit you deserve and desire! Previously, the only way you would know if you'd get a credit card or loan was to apply. Back then lenders held all the cards, and rejection after rejection borrowers would patiently wait to hear a lender respond with a 'YES'. We knew things could be different and better, so we knew it was time for borrowers to start calling the shots! That's why we built the eligibility check, which gives back the power to borrowers.
We like giving our clients a second chance and therefore we offer credit cards to clients with bad credit histories and debt consolidation for clients with too much debt.
Customer Reviews & Testimonials
"
They provided a lot of clarity on the terms and conditions of their services
Thomas W
— Birmingham —
They helped me build credit with their credit service made specific for those with bad credit
Larry N
— London —
Their eligibility checking tool made it easy to see which card loans I would be accepted for
Samantha R
— Liverpool —
Totally Money Contact Details
Contact Number
E-Mail
Website
Physical Address
Chapter House, 16 Brunswick Pl

London

N1 6DZ

United Kingdom
Opening Hours
Monday

09:00 – 17:00

Tuesday

09:00 – 17:00

Wednesday

09:00 – 17:00

Thursday

09:00 – 17:00

Friday

09:00 – 16:30

Saturday

– Closed

Sunday

– Closed