My Community Bank
Updated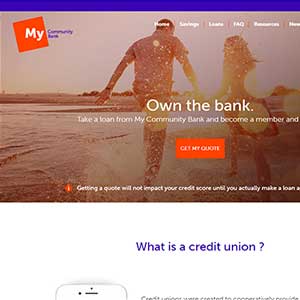 About My Community Bank
Do you ever feel like your bank does not care about your own interests? Well at My Community Bank it is not about us, it is about you.
Our members wanted a bank that is fair, affordable and inclusive and that is exactly what we have given them.
What is our goal?
My Community Bank started out as a credit union named Brent Shrine Credit Union and was first established in 1979. Since then we have changed our name but our goal remains the same: to fight financial exploitation, operate with transparency and inclusivity and give back to the community.
Low-interest rate loans
Our members wanted a bank that is part of the community and has the community's best interests at heart throughout their operations. People who need money the most are also those who are charged the highest rates. We aspire to provide fair and affordable finance to those who need it most without any strings attached.
My Community Bank Services
We offer a variety of savings and personal loans and other financial products to our members.
We have your best interests at heart which is why we only offer the best. When you take out a loan with us, you become both a member and an owner. You also become part of a family.
Getting personal with personal loans
Personal loans are called just that because you are able to use them for any purpose. You know your needs best and we are here to supply you with a means to satisfy those needs. Getting a quote with us will not affect your credit score so complete an online application today.
Fast and flexible loans
We offer a variety of quick loans to our members with borrowing amounts ranging from £1500 to £25,000 payable over a term of twelve to sixty months. When borrowing with us we have fixed monthly repayments and no hidden fees allowing you to budget your finances without concerns. The interest rate that you are charged is dependent on your personal financial circumstances.
My Community Bank Product Details
Loan Type

Credit union loans
Summary of Services
Personal Loans
Quick Loans
We look out for our community
Nothing is more important to us than the wellbeing of our community.
Without our members, we would not be operational which is why we place such a high emphasis on helping one another. We offer a variety of savings options to accommodate your flexible needs.
Borrow with us instead of a bank
When you are part of a credit union you have greater control over your money. Because our members are also our owners we do not pay a return to any shareholders. This means that income is paid to our members in the form of dividends. We also offer lower interest rates and no fees; you only pay back what you borrow.
My Community Bank is focused on the community which means that our members have an equal say in the decisions that affect our operations – we all work together to better serve one another. Our aim is to alleviate financial exploitation, not contribute to it so we focus on lending responsibly.
Can I apply to be a member?
In order to apply for a loan, you must be a member of My Community Bank, you have to follow an occupation or be a member of one of the organizations that are associated with our common bond. One of such associations is the minor groups of the Officer of National Statistics' Standard Occupational Classification.
For more information on our associated companies and institutions, you can view the listing available on our website. Thereafter, simply complete the application form and wait for a response.
What are my savings options?
Saving with us does not only have benefits for you but for the community as a whole – that is the beauty of credit unions. You can choose to save your money for one to three years – each option carrying its own interest rate. When saving with us your money accumulates interest and allows you to earn dividends allowing us to help you while you are also helping others.
Why saving with us is the best option
Saving with a credit union is secure, rewarding and improves the total financial wellbeing of the community. We operate ethically and with full transparency ensuring that you receive the best competitive rates.
The money that you deposit with us is covered by the Financial Services Compensation Scheme which means that your savings are entirely safe. While your money is safe with us it will also be borrowed to other members of the community to place them in a better financial position than before.
Customer Reviews & Testimonials
"
I have to say, they're loans are usually easy to pay off.
Craig W
— London —
My Community Bank is always empathetic to my needs. I like their commitment to their customers
Margot F
— Liverpool —
My Community Bank Contact Details
Contact Number
E-Mail
Website
Physical Address
138 Holborn

London

England

EC1N 2SW

United Kingdom
Opening Hours
Monday

09:00 – 16:00

Tuesday

09:00 – 16:00

Wednesday

09:00 – 16:00

Thursday

09:00 – 16:00

Friday

09:00 – 16:00

Saturday

– Closed

Sunday

– Closed