Debt consolidation loans up to £35,000
Low-interest starting from 3.9%
Repayment up to 7 years
In-page navigation
---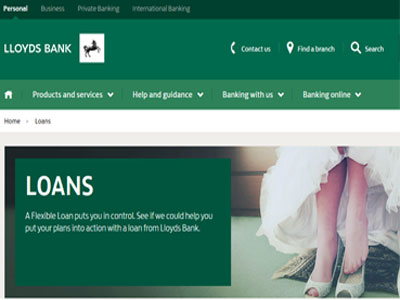 About Lloyds Bank
Has your financial situation left you feeling like you're between a rock and a hard place? Getting into debt is easy. Getting out of debt is the challenging part.
Unfortunately, this is where a lot of consumers find themselves. This coupled with the lack of a practical plan to move forward results in a really unpleasant situation with seemingly no solutions to- except, there is a solution.
Who can apply?
If you are a Lloyds Bank current account holder (having had your account for at least one month), you can apply for this consolidation loan. We determine the amount we'll lend you and the rate based on our assessment of your unique circumstances.
The loan requirements
You must be older than 18 and be a UK resident. Our personal loan can help you consolidate your existing debts and take back control of your finances. Loans start from £1,000 to £50,000 over 1 to 7 years.
Lloyds Bank Services
Debt consolidation allows you to pay off all your existing debts by means of a single loan.
Thus you will only need to make a single monthly payment for all your debts. Besides providing you with convenience, this affords you the opportunity to be able to manage your money a whole lot easier.
Lower rates
How do lower rates sound to you? Like 3.9% low? Well, our customers can receive rates just as low as that when borrowing from £7,500- £25,000 over a period of 1- 5 years. So when we say we want to make things easier for you, we mean we want to make things easier for you.
Handle your money better
Going from making multiple payments each month to only needing to make one payment could save you money in the long term since your repayments will be reduced to a more workable amount. Furthermore, with our personal loans, your monthly repayments are fixed, meaning you will owe the same amount every month for the entire duration of your loan.
Lloyds Bank Product Details
Loan Type

Debt consolidation loans

Interest Rate

from 3.9%

Loan Amount

up to £35,000

Repayment

1 year to 7 years
Summary of Services
Simple and secure
Payments are fixed
Can make additional payments
Flexible repayment options and easy loan applications
We offer repayment options which are flexible so as to accommodate your needs or preferences.
This means that you can make additional payments as you wish, without any charges. However, take note that if you complete the repayment of your personal or short-term loan early, there will be some interest charged.
How do you apply?
There are three different ways that you can apply for a loan. You can apply quickly and easily via online and in a matter of minutes, you can get a personalised quote and decision.
Or you can apply over the phone; our lines are open 7 days a week so you can contact us whenever is best for you. Or rather, if you prefer, you can walk into any one of our branches and our staff will gladly assist you to make an online loan application. Usually, we are able to give you a decision and deposit the funds into your account on the same day.
Repayment holiday reward
Our customers have what is called a repayment holiday option. Should you be approved, this allows you to take a maximum of two one month repayment breaks for every year of your loan, which means more flexibility. However, if you take this option, interest will be charged.
We're here for you
We'll help you throughout the entire process to ensure that your experience with us will be satisfactory and that everything runs smoothly. Our first priority is to make sure that you understand the full responsibility and implications of getting a debt consolidation loan with us.
Before deciding to take out a quick cash loan, we want you to be sure that you are choosing the best option for your needs. We'll help you discuss your options and if you do decide to continue with the loan, we'll make sure that we provide you with a fair deal.
A helping hand
Since our doors first opened in 1765, we have been a bank committed to serving the people of Britain, offering assistance when they need it the most.
We're proud to say that that hasn't changed; we're still helping consumers through the range of financial services and products that we offer so that they can go from point A to point B. That is ultimately what we are about.
Customer Reviews & Testimonials
"
As an existing customer, I was able to apply for the loan on the phone and yes they offered to call me back. How sweet and convenient!
Charlotte P
— London —
I went to the branch to apply for the loan. The customer service was very good
Williams H
— Oxford —
The best lender I ever worked with
Jessica G
— Cardiff —
Lloyds Bank Contact Details
Contact Number
E-Mail
Website
Physical Address
45 The Rock, Bury

England

BL9 0JP

United Kingdom
Opening Hours
Monday

09:00 – 17:00

Tuesday

09:00 – 17:00

Wednesday

09:00 – 17:00

Thursday

09:00 – 17:00

Friday

09:00 – 17:00

Saturday

09:00 – 13:00

Sunday

– Closed