Debt consolidation loans up to £25,000
Low-interest starting from 2.9%
Repayment up to 5 years
In-page navigation
---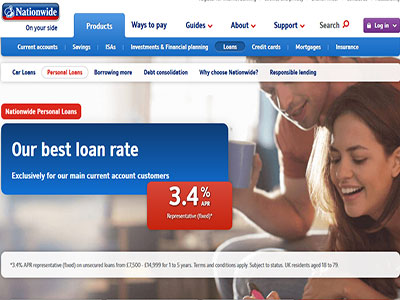 About Nationwide
Whether you take out one too many loans or an emergency situation forces you to use your credit card, we all need a little help from time to time.
So isn't it nice to know that during difficult times like these, there is someone in your corner ready to lend you a helping hand, should you need it?
We are committed to you
Nationwide Building Society is a financial institution built on a strong commitment to our customers. You come first in everything that we do but don't just take our word for it.
You can count on us
With over 15 million members putting their trust in us every day, you can be sure that whatever your needs, if we can help, you will be in some of the best hands in the business. We are committed to being a building society that the British public can count on and someone who you can trust.
Nationwide Services
Nationwide offers a personal loan to consolidate your existing debt. A debt consolidation loan essentially allows you to take all of your existing debts and merge them into one loan.
You can get a loan to pay off debts from credit cards, store cards, personal loans and any other debts that you may have accumulated.
Putting your needs first
Getting a loan to pay off your existing debts might sound like a bargain- and if done correctly, it is- but there are still some important factors to consider before going through with this. For example, the new loan term might be longer than that of your original debt which means you will actually end up paying more.
Loans tailor-made for you
Your loan rate will depend on two factors: the amount you want to borrow and your personal circumstances. We will never treat two customers the same because we understand that your needs are unique to you and we will treat you as such. So speak to us and we'll see how best we can help.
Nationwide Product Details
Loan Type

Debt consolidation loans

Interest Rate

from 2.9%

Loan Amount

up to £25,000

Repayment

1 year to 5 years
Summary of Services
A fast decision
Money transferred in two hours
A personalized quote will not affect credit score
Consolidation your debt with Nationwide, apply online today
Main current account holders stand to enjoy some of our attractive benefits, such as loan rates as low as 3.0% when you borrow loans from £7,500 to £15,000 over 1 to 5 years.
You can enjoy rates of at least 1% lower for the same loans compared to our other members. When you apply, we'll provide you with an immediate online decision and a no-obligation personalised quote without affecting your credit score.
Who can apply for a loan?
Our loans are only available to individuals who are already Nationwide customers. Members include current account, mortgage and savings account holders.
Remember, getting a debt consolidation loan will not make your debts disappear. What it will do, however, is it will assist you to manage your finances better by giving you more breathing room.
Take back control
We value our customers and want to see you reaching your goals, whatever they may be. This care also translates to how we work hard to assess your individual circumstance to help you determine the best option for your needs.
No Hidden Fees with Nationwide
There are no hidden fees to worry about- either for setting up your loan or for making an early settlement. Once funds are approved, you can expect to receive your money in your Nationwide current account usually within 2 hours.
If you have another Nationwide account, you can receive the funds within 1 working day and 3-5 working days for all other accounts. Lastly, our Loyalty Price Promise entails that we will beat any other similar UK loan provider personal loan rate offers by 0.5% for loans between £1,000 to £25,000 over 1 to 7 years.
These are just some of the reasons why you should become a Nationwide member. Not only can we help you tackle your debt proactively but we'll throw in some benefits that can help you save money in the long run.
Customer Reviews & Testimonials
"
Excellent service I must say
Alice J
— York —
I receive the money in two hours after application
Daisy W
— Leeds —
Fast and efficient service
Oscar H
— Liverpool —
Nationwide Contact Details
Contact Number
E-Mail
Website
Physical Address
415 The Strand Covent Garden

London

WC2R 0NS

United Kingdom
Opening Hours
Monday

09:00 – 16:30

Tuesday

09:00 – 16:30

Wednesday

09:30 – 16:30

Thursday

09:00 – 16:30

Friday

09:00 – 16:30

Saturday

– Closed

Sunday

– Closed