Royal Bank of Scotland
Updated
Debt consolidation loans up to £50,000
Repayment up to 8 years
In-page navigation
---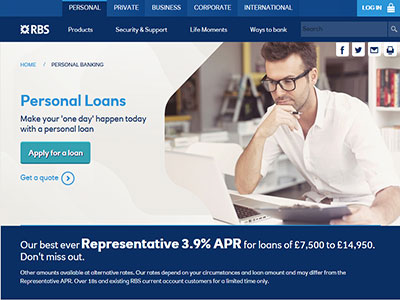 About Royal Bank of Scotland
At Royal Bank of Scotland, we're driven by one thing: helping our customers become more financially stable.
With years of experience and a highly qualified team who know what they're doing, we strive to be a reliable partner you can trust, helping you develop a more positive relationship with your money.
Manage your finances better
If you have ever been in debt, you know how it can be quite overwhelming. This is especially true if you find yourself battling to keep up with your repayments.
So what do you do?
When you're in this situation, your options can be quite limited. However, one option is to get a debt consolidation loan; this is a great way to help you regain control over your finances. Use it to pay off credit card debts, store card debts and any other personal loan debts that you owe.
Royal Bank of Scotland Services
A debt consolidation loan will allow you to roll all your debts into one loan, making your repayments a lot easier to handle.
Paying one monthly payment with one rate is simpler than paying various repayments with various rates each month.
Get a quote before you apply
You can find out how likely you are to be approved before you apply by using our tool that provides you with a personalised quote. In addition to seeing your eligibility, find out the amount you may possibly be able to borrow, your monthly repayments as well as your personalised interest rate in a few minutes.
Quotes won't affect your credit score
The best part is you can do all this without affecting your credit rating. This tool is really useful in helping you compare your potentially new loan with your existing commitments. If you decide to continue with a full application for a loan, please note that the final loan rate may differ after a complete credit check assessment is performed.
Royal Bank of Scotland Product Details
Loan Type

Debt consolidation loans

Loan Amount

up to £50,000

Repayment

2 years to 8 years
Summary of Services
Debt Consolidation Loans
Bad Credit Loans
Home Loans
Personal Loans
Business Loans
Debt consolidation can help you manage your money better
Taking a new loan when you already have existing debts is not a decision to be taken lightly.
If you don't do your research, you could end up in a deeper hole than where you started.
Choose loan options carefully
You need to look at your existing debt and evaluate whether getting a new loan will be beneficial to your individual situation. For instance, your new loan may have a longer-term or higher rate which means you'll end up paying more. Thus, take the time to visit your local branch and speak to one of our financial advisors or call us and we'll assist you in deciding whether or not this option is the best one to take.
Remember, a consolidation loan will not erase your existing debt but rather, it will help you gather it all up into a more manageable package.
Loan rates
Whether you are a new or existing customer, the rate will be the same. Your rate is dependent on the amount you wish to borrow as well as the circumstances unique to you. However, our rates will never be more than 29.9% p.a.
Simple application process
The application process is quick and easy. Apply online and if possible, we'll give you an instant decision. You can also apply over the phone or visit one of our branches for assistance.
To be eligible for a loan, you need to be 18 and over, be an existing current account holder (for at least 3 months), have a credit card or mortgage (for at least 6 months)and be a UK resident. Borrow from £1,000 to £50,000 for up to 5 years. Alternatively, if you borrow from £7,500 upwards, you can borrow over an extended-term period of up to 8 years.
The amount we can lend you depends on our full assessment of your personal circumstances. We understand that you are in a difficult position- hence you have made the application- therefore during our assessment, we'll always be reasonable and fair.
Customer Reviews & Testimonials
"
Thank you RBS for catering for self-employed people
Emmelia L
— Manchester —
I applied online and receive the payment on the same day. I must say the online application was simple and short
Eva B
— London —
Royal Bank of Scotland Contact Details
Contact Number
E-Mail
Website
Physical Address
280 Bishopsgate, Spitalfields

London

England

EC2M 4RB

United Kingdom
Opening Hours
Monday

07:00 – 19:00

Tuesday

07:00 – 19:00

Wednesday

07:00 – 19:00

Thursday

07:00 – 19:00

Friday

07:00 – 19:00

Saturday

– Closed

Sunday

– Closed