Secured loans
Competitive rates
No hidden fees
In-page navigation
---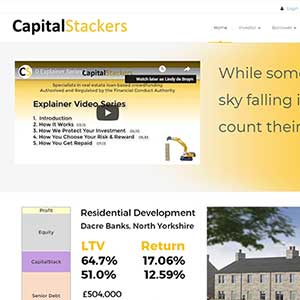 About Capital Stackers
We are the go-to peer-to-peer lending company, based in the UK, for property investors and developers
Our main focus is on the property industry- commercial and residential- providing anyone who seeks to invest within a property that much-needed helping hand in order for you to reach your goal.
We help you stack on the capital
Whereas other P2P lending platforms look to completely avoid banks, we at Capital Stackers aim to work in partnership with them. How exactly do we do this? Well, we allow investors to build on the bank's support as they lend money directly to borrowers.
Invest or develop a property
A borrower, looking to invest in or develop the property, will secure a home loan from a bank. Since banks do not provide the full amount of money which is needed by the borrower, the borrower can then come to us and request a loan from our investors in order to acquire the remaining amount needed. Therefore, as our name suggests, our purpose in this chain is to stack the capital needed on top of what borrowers already have.
Capital Stackers Services
Our P2P lending platform is highly attractive because all loans made are fully secured by the borrower's property assets.
When you invest, you have the power to choose the level of risk you are willing to take, giving you the freedom you deserve.
Expect great returns
Investing with us will offer you returns from 5% up to 20% with a minimum investment amount of £5,000. Compare that to what traditional institutions like banks offer you! You also have the option to diversify your loan portfolio in relation to the following categories: the deal type, the property sector, geographical location, the size of the deal and the level of risk.
Set up well-structured deals
As a borrower, we can assist you in getting funding for property investment or development, regardless of whether the property is commercial or residential. We help you to set-up well-structured deals and give you that extra support with very competitive rates.
Capital Stackers Product Details
Loan Type

Peer-to-peer loans
Summary of Services
Flexible finance
Affordable interest rates
Access to the source of funding
We offer all-round support on loans and investments
Our website is straightforward and easy to use. Everything is designed to help you get the information that you need in a quick and hassle-free way.
We believe in complete transparency. That is why we make sure that we explain everything in the simplest terms as possible, ensuring that ultimately, you are always in the driving seat when it comes to the decisions that you make with regards to your finances. Additionally, you can also keep track of all your investments with ease.
We are the middlemen
So essentially, we are the middleman. We take individuals who are in need of more finance on top of the assistance that they get from banks and connect them to investors who are looking to put their money where they can get better returns as opposed to investing through conventional mediums. Our goal is to bridge this gap created so that borrowers can achieve their goals and investors can invest in sound property deals.
A team you can trust
Our team is made up of highly experienced industry professionals from the property and financial industries who bring a lot of value to the table, so you can always trust that we know what we are talking about. We are ready and available to assist you and to give you advice on everything that you need to know and to look out for when investing in property, especially if you are blacklisted.
From financing to documenting and monitoring your property investments, we are here for you throughout the entire process to give you the assurance that you need.
Get the most out of your money
We offer you extensive and in-depth advice on how best you can use your money because we want you to get the most out of it. You can always trust that you are getting the best service and can rest assured that you are in safe, experienced hands. Exactly the peace of mind that you need when it comes to your money.
Customer Reviews & Testimonials
"
As a family we always wanted to start a family business we applied for business loans at different places and one lender which trusted us was Capital Stackers
Violet G
— Manchester —
Very efficient and effective lender
Eva H
— Bath —
Their employees have good manners and customer etiquette
Evan J
— Leeds —
Such as good company I can recommend them to another person
Jacob S
— Birmingham —
Capital Stackers Contact Details
Contact Number
E-Mail
Website
Physical Address
Riverside House, Kings Reach Business Park, Yew Street

Cheshire

Stockport

SK4 2HD

United Kingdom
Opening Hours
Monday

08:30 – 17:30

Tuesday

08:30 – 17:30

Wednesday

08:30 – 17:30

Thursday

08:30 – 17:30

Friday

08:30 – 17:30

Saturday

– Closed

Sunday

– Closed