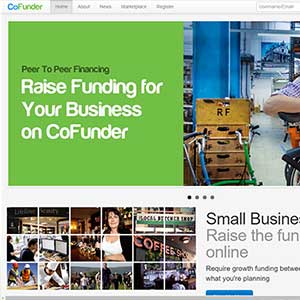 About CoFunder
For as long as you can remember you have always wanted to run your own business and after years of saving up and building up the courage, you finally take the plunge.
The beginning is a little shaky but like a child learning to ride a bicycle, you eventually find your rhythm and things start to get a little easier.
Peer-to-peer lending solutions
As time goes on, you begin to start thinking bigger and you decide to expand. But there's one little problem: money, or more accurately, the lack of it. You could try approaching the banks but just thinking about the amount of red tape and hoops you have to jump through is enough to tire you before you even get started. This is where we step in with our peer-to-peer lending solutions
Small business loans
CoFunder was born out of the fact that we realised that there was a strong need to help businesses that were not quite so young anymore but who were still in need of business loans. Therefore, we created a platform to address this problem directly. We are a UK-based peer-to-peer lending platform targeting established companies looking to grow but are struggling to secure the needed financial capital to do so.
CoFunder Services
Traditional money lending institutions, like banks, more often than not tend to have highly restrictive, rigid lending policies and criteria in order for you to qualify for a loan.
Those who don't qualify are denied assistance and left out in the cold to fend for themselves. We at CoFunders aim to assist those who have been unsuccessful with the conventional route, providing a much-needed alternative to businesses in need.
Advantages of using CoFunder
There are two main advantages of using our P2P lending platform. As a creditworthy business owner can have direct access to willing lenders who are ready to invest, not only into your business but ultimately into your vision. The fact that you are connecting directly with potential lenders means that you can save money since you will not have to pay any of the high costs that come with lending money from a bank.
Get the best interest rates
Secondly, as an investor, you stand to benefit from the most favourable interest rates, which are a lot more attractive than those currently offered by banks and other institutions. In addition, you have the power to choose how much return on your investments, you would like based on your desired level of risk. With such great benefits, you really would not want to go anywhere else.
CoFunder Product Details
Loan Type

Peer-to-peer loans
Summary of Services
Peer-to-Peer Lending
Personal Loans
We are changing face of the money lending market
We believe that this direct relationship between the borrower and the investor is important because it lays the foundation for improved corporate governance and responsibility.
Investors want your business to succeed
As a borrower, you are not borrowing from a large, faceless institution. You are borrowing from real people who you interact with directly. Consequently, you are less likely to default on your loan. On the other hand, lenders will be more vested in the businesses that they are investing in and will actively work towards ensuring their success. This mutualistic symbiotic relationship is exactly what we try to achieve with every member of CoFunder.
Using technology to your advantage
It is a well-known fact that we are now living in a digital age. Technology is around us 24/7 and has become an integral part of our daily lives. As such, the way in which you can secure a loan for your business is also changing. Therefore, it is important that as a business owner, you move with the times and you don't get left behind.
Our experts are here to help
We have a team of experts available for you to make use of at any time. Our team understands the world of business with all its challenges and this makes us the ideal people to approach whether you want to invest or borrow money. We understand the value that you as a business owner have in creating jobs and growing the economy within our communities, which is why we are determined to ensure that when you are in a bit of a pickle, you can rely on us to help you get out. We won't judge you on your bad credit score, a p2p lending solution is for everyone.
Customer Reviews & Testimonials
"
I got an affordable loan through CoFunder. The process is easy and I got the finance I needed quickly.
Mary L
— London —
I needed finance to buy a new vehicle for my business. I applied through CoFunder and received an affordable loan.
Clint B
— Bristol —
CoFunder Contact Details
Contact Number
E-Mail
Website
Physical Address
Bay Road,

Londonderry

North Ireland

BT48 7TG, UK

United Kingdom
Opening Hours
Monday

09:00 – 17:00

Tuesday

09:00 – 17:00

Wednesday

09:00 – 17:00

Thursday

09:00 – 17:00

Friday

09:00 – 17:00

Saturday

– Closed

Sunday

– Closed