Peer-to-peer loans up to £10,000,000
Low-interest up to 6.04%
Repayment up to 5 years
In-page navigation
---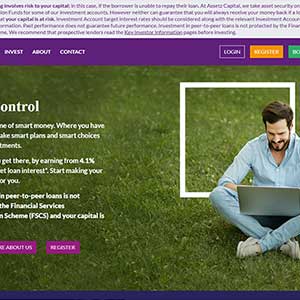 About Assetz Capital
Peer-to-peer lending is nothing new but with so many different platforms to choose from, it can become quite overwhelming to decide which one is the best for you.
Well, we at Assetz Capital understand that you want to make your money work for you and we can help you to do just that. Assetz Capital is a UK-based peer-to-peer lending platform that offers investors the freedom to invest their money how they see fit.
We'll help you find the right investment
We are passionate about helping you find the right investment for your particular needs and we do this by connecting potential investors to businesses looking for loans. All the investment options are at your fingertips, all you have to do is browse and click. It's that simple! We believe in providing you with all the tools that you need in order to take control of your finances and make smart money moves.
We cater to your needs
We can match you up with specific borrowers that fit your predefined criteria, saving you time- and as we all know, time is money. Therefore, we cater to anyone, whether you are an experienced investor who has done this before or you are a novice dipping your feet into the water for the first time. We are here to cater for every type of investor. That is why we have designed a simple platform that is easy to use and can be customised to your particular investment interests at the click of your mouse. You can apply for a short-term loan or a personal loan, the choice is yours.
Assetz Capital Services
The best part about our service is that you, the investor, hold all the deck of cards in your hands.
That's right. You have full control over who to invest in and how you want to invest. We have made the process to be as simple and hassle-free as it should be, ensuring that your interactions with us will always be a breeze.
We offer asset security on every loan
Making any investment carries a whole range of risks within itself and peer-to-peer lending is no different. However, we want to help soften the blow should you take a hit. That is why just in case the borrower fails to pay back their quick loan, we take asset security on every loan.
This means that when the borrower borrows money from you-the investor- the borrower needs to put up an asset they own, which is of similar monetary value to the loan that you give them as collateral. This offers you some protection should the lenders struggle to repay your loan.
Diversify your investments
Another way in which we help to reduce your risk is through the automatic diversification of your investment across various loans. This is done for all Assetz Investment Accounts with the exception of the Manual Lending Account.
Assetz Capital Product Details
Loan Type

Peer-to-peer loans

Interest Rate

6.04%

Loan Amount

up to £10,000,000

Repayment

6 months to 5 years
Summary of Services
Fast, flexible finance
Decision within 24 hours
Affordable rates
We will help you find a affordable loan
Although there are some risks involved, there are still some advantages.
By creating a space in which you can invest your money directly to businesses, you don't have to worry about banks, which gives you the opportunity to get a fair rate of return.
The investment accounts
We offer a variety of investment accounts, so you will always have options. Because you are serious about your money, we are serious about ensuring that it will be well taken care of as well.
Why invest with us?
We are available to assist you and to offer guidance to ensure you that you have all the knowledge that you need. Making sure that you are in control of how you invest your money is a priority for us. If you have a question or need clarity on something, we are always ready and willing to help even if you are blacklisted. Just another way we deliver quality service to you.
Innovation meets modern life
With more than 29 000 people investing with us, you can be sure to trust that you will find what you are looking for with us. We combine innovation with a focus on the demands of modern-day life. We take the time to meet face-to-face with every potential borrower to make sure that their business is authentic and that everything is in order, so to speak. You put your faith in our services, therefore, we have a responsibility to ensure we meet your expectations. We gladly oblige.
Customer Reviews & Testimonials
"
I receive the best service from the company
Isabella W
— London —
I was a happy with the way the consultant treated me. He treated me with respect and patience
Eric H
— Cambridge —
Assetz Capital Contact Details
Contact Number
E-Mail
Website
Physical Address
Berkeley Square House, Berkeley Square, Mayfair

London

England

W1J 6BD

United Kingdom
Opening Hours
Monday

09:00 – 17:30

Tuesday

09:00 – 17:30

Wednesday

09:00 – 17:30

Thursday

09:00 – 17:30

Friday

09:00 – 17:30

Saturday

– Closed

Sunday

– Closed