Peer-to-peer loans up to £25,000
Fund operators
Repayment up to 12 months
In-page navigation
---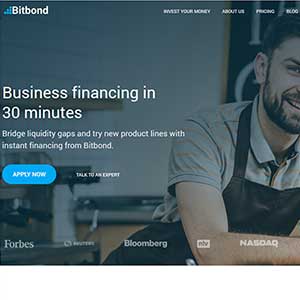 About Bitbond
Bitbond is a peer-to-peer lending company with a difference
We are unique in that we are the first global lending marketplace platform for small business owners. Yep, that's right. You can either invest in a small business or you can take out a loan of up to $25 00- from more the 120 countries.
The Bitcoin technology
How is this possible, you might wonder. How can someone from country A lend to a business in-country G? The answer is very simple actually; two words: bitcoin technology. We use bitcoins to create a payment network, which allows for the exchange of money across different countries. The use of bitcoins means that this exchange will always be equal and fair. As such, we are revolutionising the lending marketplace and changing the way investors like yourself can invest money. It's all quick, simple and oh yes, free to join.
We helping small businesses
Getting funding as a small business owner is one of the most challenging aspects of owning a business. We understand this. That's why we want to make it a little easier for you to access that much-needed financial support.
Bitbond Services
The advantage of using our peer-to-peer lending platform is that the process is much quicker than if you go down the conventional, borrowing from the traditional institution's route.
Our interest rates are also more affordable. On the other hand, as an investor, you can stand to make more on your investment since you are not going through any bank. You can invest in as many loans as you like at very favourable interest rates.
Build your portfolio and save time
Now, let's say you have decided that you want to invest with us, but you don't necessarily have the luxury of time to build up your profile, then our Bitbond AutoInvest service will work best for you. What this simply allows you to do is to automatically build your loan portfolio and distribute funds to your predetermined preferred investments.
Set your preferences with ease
You can set up your preferences in relation to the total amount that you would like to invest, your base currency, your preferred rating profile (low, medium or high risk), as well as the borrower's country of residence. If at a later stage you want to change any of your settings, all you have to do is log in to your profile and change what you want, whenever you want.
Bitbond Product Details
Loan Type

Peer-to-peer loans

Loan Amount

up to £25,000

Repayment

3 months to 12 months
Summary of Services
Key benefits such as tokenized securities
Lower capital cost
Low costs
More opportunities for everyone
We open up the market for both people who want to invest and people who are looking to borrow money.
Thus creating the global lending market for small business loans we believe is the future of peer-to-peer lending. We make it possible to make financial transactions that are much more affordable and which can be completed quicker than would be the case if you were to go through the conventional route like a bank.
A true global marketplace
So you are interested and want to know more? After all, how many other peer-to-peer lending companies have managed to effortlessly create a global marketplace in which investors and borrowers can be connected from different parts of the world? So if this sounds like a lucrative option for you, don't waste any more time.
We strive for simplicity
Our platform is simple and uncomplicated to use; you are always in control. You have the option to custom-make the type of investments you want to make and your investments will always be safe. We perform credit checks on every potential borrower, ensuring that every person in our database is trustworthy.
A great opportunity for anyone
This is a great alternative opportunity for anyone. If you are a small business owner, you can secure funding from willing individuals looking to support people like you. If you are an investor, this is a way for you to secure a secondary income stream.No longer do banks need to hold all the power, ordinary people like you can also have a seat at the table. We think that's fair.
Customer Reviews & Testimonials
"
Quick service and friendly employees
Henry G
— York —
Thank you Bit bond for funding my new business. The business is currently operating properly
Chloe C
— Brighton —
My business was falling down and I had no money to save it. I applied for the business loan at Bit bond. i must say this ender helped me a lot
Ruby J
— London —
Bitbond Contact Details
Contact Number
E-Mail
Website
Physical Address
Lottumstraße 26

Berlin

10119

United Kingdom
Opening Hours
Monday

Open – 24 Hours

Tuesday

Open – 24 Hours

Wednesday

Open – 24 Hours

Thursday

Open – 24 Hours

Friday

Open – 24 Hours

Saturday

Open – 24 Hours

Sunday

Open – 24 Hours