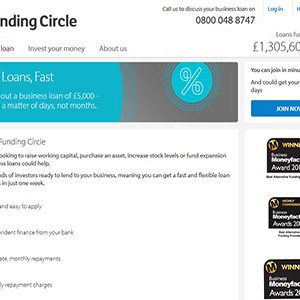 About Funding Circle
Funding Circle has one goal and one goal only: to help build a better financial environment for business owners like you.
We believe that getting a business loan should not be unnecessarily difficult. You should be able to obtain the financial capital that you need to take your business to the next level.
Take your business further
That is why we created our peer-to-peer lending platform with the primary purpose to help business owners to secure much-needed loans at faster speeds with fairer, non-exploitative conditions. It is an unfortunate reality that way too often so many businesses struggle to grow due to a lack of capital.
We want to even out the playing field
We are the largest peer-to-peer lending company in the UK with 39,000 businesses have managed to finance their goals by borrowing £3.5 billion through our platform. The numbers speak for themselves.
Funding Circle Services
We've got what you're looking for.
Our platform connects lenders and borrowers directly so they can achieve their individual goals. The best part is that this relationship will always be beneficial for both parties involved.
We help you invest your money
Investors can receive attractive returns, use tools to lend automatically and you don't have to worry about paying fee after fee. You can also choose between two lending options: ISA or Classic account. Businesses can borrow £10,000 to £1,000,000 which can be repaid over 6 months to 5 years- your choice. There are no fees for full early repayments and you can get a decision regarding your online application in as little as 5 hours.
Out with the old
Thanks to technology, we have managed to transform the way you can access money. We're changing the outdated slow-pace offered by traditional banks and have introduced fast, simple, transparent and more flexibility to money lending. Say goodbye to hidden fees, months of waiting for approval and overly expensive short-term loans. We've got you covered.
Funding Circle Product Details
Loan Type

Peer-to-peer loans
Summary of Services
Investors
Loans
Online Services
We take customer service very seriously! You are more than a number to us
We work hard to ensure that everyone who approaches us (borrowers and investors) walk away feeling nothing short of satisfied
We will provide you with your own account manager who will happily assist you with your loan or investment. you can apply for a loan through the market place even if you are blacklisted. If you have any questions or need some guidance throughout the process, you can always rely on having someone at your call, ready and waiting to help you.
We promise no nasty surprises
We use simple language and ensure that you are completely aware of all the terms and conditions of your loan before agreeing to anything. We will never leave you in the dark and you don't have to worry about any hidden fees or requirements that will pop up later. Everything will be made known to you from the beginning so that you can make the best choices for you.
We help you manage risk
Although all businesses that borrow through us are rigorously checked for creditworthiness before they can be allowed to request loans, there are unfortunately still risks inherently involved in investing. However, we have put systems in place that help to mitigate some of these risks.
Our vastly experienced team makes use of advanced technology to thoroughly check every application to ensure only those credible are approved.
We help you build a diversified portfolio, allowing you to spread your lending across multiple businesses thus lowering your risk.
Our dedicated, award-winning collections and recoveries team will work hard to recover as much as they can for you in the event that a business is unable to fully repay their loan.
Creating sustainable communities
Investors and borrowers play a vital role in uplifting communities. When investors lend money, they are not only helping businesses but the community at large as well. Think of it as a ripple effect: when businesses get funding, they are afforded the chance to further develop and expand. This, in turn, translates to them being able to create jobs, which in turn translates to growing local communities.
It is this impact of driving the economy forward which drives us to continue creating opportunities for people like you.
Customer Reviews & Testimonials
"
There was a season where my business was making a loss and had no money to pay my employees and funding to circle loaned came to my rescue
Camron E
— London —
The company which saved my business
Barry K
— London —
Reliable company I must say
Amber R
— York —
Funding Circle Contact Details
Contact Number
E-Mail
Website
Physical Address
71 Queen Victoria St

London

England

EC4V 4AY

United Kingdom
Opening Hours
Monday

09:00 – 18:00

Tuesday

09:00 – 18:00

Wednesday

09:00 – 18:00

Thursday

09:00 – 18:00

Friday

09:00 – 18:00

Saturday

– Closed

Sunday

– Closed