Peer-to-peer loans up to £3,000,000
Flexible financial solution
Lower interest rate
In-page navigation
---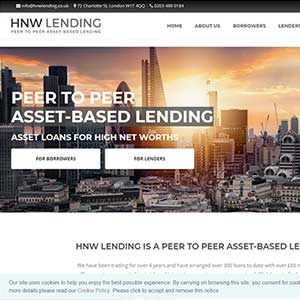 About HNW Lending
HNW (high net worth) Lending is a peer-to-peer lending business.
We are the bridge between businesses and individuals looking to invest and businesses and individuals looking for business loans for their projects. Therefore, we connect people to help them to achieve their goals.
Asset-based lending
We have arranged more than 250 loans during the 3 plus years that we have been trading so you can trust in our experience and service. Loans start from £30, 000 to £3 million. We facilitate the process of investors lending to borrowers by following the asset-based loan model. What this simply means is that when a borrower accepts an online loan from an investor, the borrower needs to put up an asset that they own as a form of security for the loan.
Assets that can be used as security
Examples of such assets include real estate, jewellery, luxury cars, boats, yachts, antiques, pensions, shares, fine wines and even stamp collections. However, this list is not exhaustive. We will consider any asset so long as it holds enough value to cover the loan amount. Furthermore, if you have assets outside of the UK, we can still arrange for loans to be taken against such items.
HNW Lending Services
When you hand over your assets to us, we ensure to take the utmost care of them during the period that they are held as security against your loan.
We will organise safe storage as well as insurance for your items until the duration of the peer-to-peer loan comes to an end. Should you require it, we will also happily assist with transporting your items.
Guaranteed access to funds
Once your request for a loan has been posted on our website, we guarantee you that your project will be funded because we have a pool of money from our investors and founders available immediately to fund projects. Therefore, as long as all the conditions outlined in the offer letter are met, you can expect us to keep this promise to you.
Fast loans
We know how valuable your time is to you, therefore we work tirelessly to ensure that your needs can be met as soon as possible. So as a rule, we strive to make sure that a quick loan offer can be made within a few hours after a completed application form is received and loans are completed within 1-2 weeks after the loan offer has been made. Our process is designed to be timeous; some loans can even be completed on the same day or the next.
HNW Lending Product Details
Loan Type

Peer-to-peer loans

Loan Amount

up to £3,000,000
Summary of Services
Reliable
Fast and easy application form
Discreet
We give you true flexability with our peer-to-peer lending service
Unlike traditional lending institutions, we can offer you more flexibility, whether you are an investor or a borrower
This allows us to give you what you are looking for faster, with fewer restrictions placed on you. No matter your credit score, we can still help.
The investment options
Lenders have complete control over which investments they want to participate in. We have automated online tools at your disposal to make managing your investments a breeze. Signing up is free and you will be able to see all loans available, as well as all documentation (, accompanying each loan. If you find something you want to invest in, you have the option to use our online platform or you can contact our offices.
We co-invest with you
Each lender needs to put up at least £10, 000 for each loan he/she wants to fund. For loans in which there isn't a single investor willing to fund the entire personal loan but rather, multiple investors are contributing to one loan. Directors will invest a portion of the loan and will assume first loss' should the loan default. Consequently, this offers some protection to investors as our Directors will lose money before investors.
The benefit of our service
However, we believe that our experience, customer service, loan-to-value ratio and the type of assets that we accept for securing your loan enables us to carefully analyse and select each loan to ensure that we reduce the risk of you losing capital.
Customer Reviews & Testimonials
"
The journey I have walked with HNW Lending is amazing this lender has become a member of the family because of their neutrality, reliability and low rates
Isaac B
— Birmingham —
Simple and short online application
Amber S
— London —
Excellent customer service
Noah P
— York —
I was very happy with the service I receive from HNW
Thomas J
— Oxford —
HNW Lending Contact Details
Contact Number
E-Mail
Website
Physical Address
72 Charlotte St, Bloomsbury

London

England

W1T 4QQ

United Kingdom
Opening Hours
Monday

08:30 – 17:30

Tuesday

08:30 – 17:30

Wednesday

08:30 – 17:30

Thursday

08:30 – 17:30

Friday

08:30 – 17:30

Saturday

– Closed

Sunday

– Closed