Peer-to-peer loans starting from £500,000
Low-interest up to 6.4%
Rates are sensible
In-page navigation
---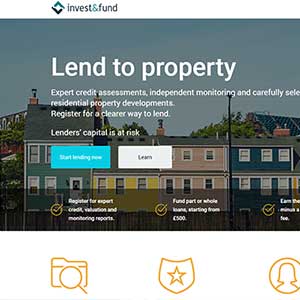 About Invest & Fund
Invest & Fund is a peer-to-peer lending platform which is driven by the desire to create excellent service for our lenders and borrowers
We connect lenders and borrowers looking to finance property development projects and thus create a marketplace in which individuals, high net worth investors, private banks, family offices as well as institutions can achieve highly favourable, risk-adjusted returns on investments.
Who we are in numbers
We stand out from other companies because our focus is solely on residential property and bridging financing. We have more than 600 registered lenders on our platform; more than £40 million has been lent to borrowers; £1.25 million interest has been paid to investors and 0%- the total loan default rate we have incurred so far.
Our website is designed to be user-friendly
It is well laid out with the purpose of providing you with all the information you need in a quick and easy manner, right at your fingertips. As soon as you register with us, you have immediate full access to all the information we have regarding each loan. This includes details about the project, the amount of risk that the investment holds, credit assessments, independent surveyor and monitoring reports and even the latest updates on every project.
Invest & Fund Services
We have a world-class team of highly-experienced individuals who apply their vast knowledge within the banking, credit risk and property development and lending sectors.
Our team is always ready to answer any questions that you might have to ensure that you are 100% comfortable with every choice that you make.
We do all the work for you
You will have someone readily available to you to guide you throughout the entire process- we have lender and credit teams on stand-by over the phone or face-to-face. We understand how it can be quite daunting at times so having a friendly face that's willing to hold your hand from start to finish is a welcome bonus. Your satisfaction is our primary concern.
We are p2p lending experts
Our experienced team puts all its knowledge together and works hard to ensure that we only approve credible projects. We undertake a rigorous due diligence and credit assessment process to certify that everyone on our database is trustworthy. We believe in creating relationships that are mutually beneficial and work hard towards creating that for everyone who uses our peer-to-peer lending service. We can still help you with a loan even if you are blacklisted.
Invest & Fund Product Details
Loan Type

Peer-to-peer loans

Interest Rate

6.4%

Loan Amount

from £500,000
Summary of Services
Repayment terms are flexible
Senior and mezzanine finance offers
A highly experienced team to assist you
We strive for more convenience and affordable loans for you
We give you all the information you need, good or bad
Transparency is one of our mottos and something we are consistently working towards. This is why we keep it frank and honest with you.
Peer-to-peer lending
Our website clearly outlines everything you need to know about peer-to-peer lending, in other words, the risks that you need to be aware of when entering into a peer-to-peer lending contract. Unfortunately, there is always the risk of the borrower defaulting on a loan, that's why we put measures in place to help you make informed, calculated decisions. You can always trust us to guide you with clarity and honesty.
For the lenders
Lenders can start lending from £500. Once you have invested in a project via our Lending Marketplace, we will keep you updated on the progress of your investment by monitoring its development on a regular basis from the beginning until completion. Our business development team will visit the site of the project for assessment and make certain that your online loans are being used in the correct manner.
Approval for the release of funds
Before every release of your funds into a project, our experienced independent monitoring surveyors and values will first see the site and give approval for funds to continue being used throughout the project. When the project is successfully completed, we will pay back your capital plus the interest earned directly into your Invest & Fund account.
Customer Reviews & Testimonials
"
I started my property business with property loan I got form Invest and Fund
Daisy W
— Brighton —
I felt the support from Invest and Fund, they know how to put customers first
Wyne J
— Bath —
Wide and different investment opportunities for investors
Derrick J
— Cardiff —
Invest & Fund Contact Details
Contact Number
E-Mail
Website
Physical Address
Chichester Rd, Saint Leonards-on-sea

Hastings,

England

TN38 9BG

United Kingdom
Opening Hours
Monday

09:00 – 17:00

Tuesday

09:00 – 17:00

Wednesday

09:00 – 17:00

Thursday

09:00 – 17:00

Friday

09:00 – 17:00

Saturday

– Closed

Sunday

– Closed