Peer-to-peer loans up to £25,000
Low-interest up to 12.9%
Repayment up to 5 years
In-page navigation
---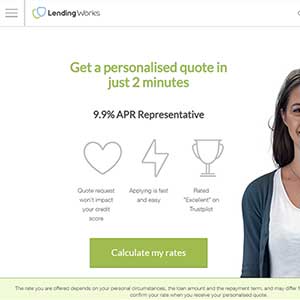 About Lending Works
Are you tired of the highly demanding criteria dictated to you by banks whenever you want to borrow money or just invest it?
It shouldn't have to be so difficult. Unfortunately, however, this is how many traditional money lending institutions operate. Their often restrictive lending policies make it almost impossible for you to get exactly what you are looking for when you need it.
Simple and fair lending
It is because of this reason that we have created a money lending platform that allows borrowers and investors to cut out the 'middle man' and therefore get a lot more with a lot less. Lending Works, a peer-to-peer lending company, enables investors to invest in personal loans to creditworthy individuals- our borrowers. Our focus is not solely on making a profit, rather, we work hard to ensure that you get a service which is fair, transparent and honest.
Mutually beneficial relationships
Our peer-to-peer lending platform makes it possible for us to seamlessly connect investors with trustworthy borrowers who are looking for better rates than what banks offer. This partnership creates a relationship that sees both parties benefiting mutually: lenders benefit from earning great returns and borrowers benefit by receiving highly competitive quick loans.
Lending Works Services
In this constantly changing economy, we all could use an extra penny or two every now and again
So we have made it easier for you to grow your money and get a secondary income stream. You can start from just £500. Signing up is simple and quick- 2 minutes to be exact- and it's free!
You can put your trust in us
You have the option to invest for 3 to 5 years with the potential to earn returns of up to 6.0% per annum if you choose the 5-year option. The 3-year option will give you up to 4.5% returns per annum. You can choose to take your loan repayments as an additional income or you could automatically reinvest, which will allow you to get maximum returns.
Innovative software technology
We don't want you to lend your money just to anyone. That's why we perform rigorous approval processes to make sure that we only approve borrowers who are creditworthy. This process includes credit checks, affordability checks, identity checks as well as fraud checks. We use innovative software technology to assist us in performing some of these checks so you can be confident that our results are accurate. Investing and borrowing with us is the safe and reliable alternative that you have been looking for.
Lending Works Product Details
Loan Type

Peer-to-peer loans

Interest Rate

12.9%

Loan Amount

up to £25,000

Repayment

12 months to 5 years
Summary of Services
Quotes don't affect credit score
Fixed rates
No extra charges for early settlement
Safe peer-to-peer lending, visit our website and apply online
Although peer-to-peer lending does come with many advantages for both borrowers and lenders
While there are unfortunately still some risks involved, as is the case with any investment opportunities. However, we at Lending Works want to provide you with a way to protect yourself from these risks because our first priority is to maintain your trust and confidence in us.
You have complete control over your money
When you start earning money from your investments, you can draw the income, re-invest, or you can withdraw early. It's completely up to you how you want to use your money because we believe that you should always be in control. You can also manage your loan online which makes things a lot more convenient for you.
The Lending Works shield
The main way we do this is through our Lending Works shield which works to protect you from loan default, fraud and cybercrime. First, we have a reserve fund which protects lenders from missed or late repayments, ensuring that you can continue to receive your expected returns.
Reliable insurance policies
We offer insurance policies which safeguard you against unforeseen circumstances, like loss of employment, sickness, accidents and death. This is 100% unique to Lending Works as no other peer-to-peer lender offers this.
Even though you can still make a loss, these measures provide some cushion for you. The uniqueness of our shield makes us stand out and therefore a much more favourable option. So choose wisely!
Customer Reviews & Testimonials
"
Very helpful and well-priced
Ned S
— Oxford —
I receive the cash in my bank account after one day of the application. Vest fast
Max G
— London —
I receive the quote in my mail in two minutes. Very reliable and quick service
Alice B
— Birmingham —
Well trained and efficient staff
Oscar P
— Eidinburgh —
Lending Works Contact Details
Contact Number
E-Mail
Website
Physical Address
60 Grays Inn Rd, Holborn

London

England

WC1X 8AQ

United Kingdom
Opening Hours
Monday

09:00 – 17:30

Tuesday

09:00 – 17:30

Wednesday

09:00 – 17:30

Thursday

09:00 – 17:30

Friday

09:00 – 17:30

Saturday

– Closed

Sunday

– Closed