Peer-to-peer loans up to £15,000,000
Low-interest up to 7.98%
Repayment up to 24 months
In-page navigation
---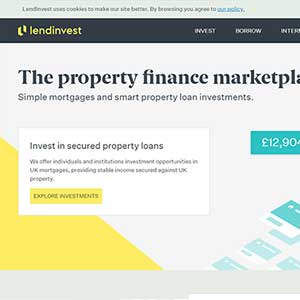 About Lend Invest
We are a globally recognised peer-to-peer lending company specialising in property financing and lending based in the UK
Investors provide secured capital so borrowers can achieve their goals and they, in turn, can get great returns.
Our loans are protected by asset security
Technology plays a key role in our operating systems as we believe that it can enhance the financial sector, particularly the money lending sector. That's why we have created a platform that effortlessly connects borrowers to investors and the results are that both parties are able to get what they want faster, simpler and with more flexibility in terms of control.
The advantage of investing with us
One of the advantages of investing with us is that all our loans are backed by security property. What this means is that when an investor lends money to a borrower, the borrower needs to put up property asset that he/she owns as security in case the personal loan defaults. If the loan does in fact default, we can sell the asset and repay the loan with the funds acquired.
Lend Invest Services
When it comes to your money, we understand better than anyone that trust is easily at the top of your list.
You're looking for someone you can trust to take good care of your money. With our 10 years of in-depth experience in the property, underwriting and fund management sectors, you can find confidence in the fact that we know exactly what we are doing.
We have helped many grow
As of August 2018, we have managed to invest over £1.4bn and have managed £1bn in client assets. With figures like these, you can have the peace of mind of knowing that your money is in the safe hands of experienced investment professionals.
We are experts in the financial market
As the UK's leading online property finance marketplace, we understand the needs of our market very well and know a lot about UK property, so who better to trust than us? Our team, comprised of 140 people, is 100% committed to making borrowing and lending money easier and better.
Lend Invest Product Details
Loan Type

Peer-to-peer loans

Interest Rate

7.98%

Loan Amount

up to £15,000,000

Repayment

12 months to 24 months
Summary of Services
Reliable funding
Instant quote using the calculator
A team of experts will be assisting you
Going the extra mile for you is our main priority
Diversification is one way in which we help you protect yourself from potential loss
As the popular saying goes, it's not wise to put all your eggs in one basket. Similarly, diversifying your investment portfolio means that you can spread out your investments across many projects (such as business loans) so as to minimise any loss that might occur.
Our training programme
Our commitment to you is not only limited to the services we provide through our peer-to-peer lending platform. We are proud to say that, in collaboration with the University of Reading, we offer intensive training to aspiring developers through our LendInvest Property Development Academy. As such, we are able to provide a positive impact on society in more ways than one.
The power of technology
Technology has the power to propel us forward. The very fact that money lending and investing has changed from the older system of going through banks to something which can be achieved online, attests to what technology can do for us. It is because of this that we at LendInvest believe in combining technology innovation with our processes in order to create a customer service and experience which is of a high standard. We believe that technology affords us so many opportunities and so we should take advantage of it and use it to create a platform that truly looks after its customers.
Guaranteed trustworthy investors and borrowers
We know how serious you are about your time and money which is why we go the extra mile to make sure that every borrower and lender operating on our platform is credible. We have a team of dedicated professionals who thoroughly assess every application and who perform rigorous assessment tests to determine creditworthiness.
Such processes mean that we only approve the best, which in turn means that the projects available for investing offer favourable chances of success. This is just another way that we ensure unparalleled customer service.
Customer Reviews & Testimonials
"
I requested call on the website and I received the call instantly, the consultant who was helping me explained all their options. I must say he was very knowledgeable and patient with me
Henry M
— York —
I started letting some of my properties and I wanted to buy more. As soon I heard about Lend Invest I applied instantly and the loan on the next day. I was impressed about their quick and friendl...
Jessy B
— Leeds —
One of the best property lender
Jordan N
— London —
Lend Invest Contact Details
Contact Number
E-Mail
Website
Physical Address
Two Fitzroy Place, 8 Mortimer St

London

England

W1T 3JJ

United Kingdom
Opening Hours
Monday

09:00 – 17:30

Tuesday

09:00 – 17:30

Wednesday

09:00 – 17:30

Thursday

09:00 – 17:30

Friday

09:00 – 17:30

Saturday

– Closed

Sunday

– Closed