Peer-to-peer loans up to £35,000
Low-interest starting from 3.9%
Repayment up to 5 years
In-page navigation
---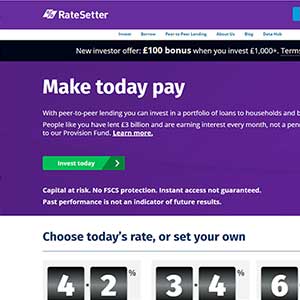 About Rate Setter
RateSetter is a peer-to-peer lending company with a passion for providing fast, flexible and quick loans for the UK public
Making your money work for you shouldn't be rocket science. In fact, it should as easy. We take pride in our quick approval processes, always putting your needs at the forefront of what we do.
Choose the rate you want
All it takes is a few minutes for you to start growing your money and our personalised service is available to guide you along the way. So whether you are a borrower or an investor, we'll take very good care of you. We provide three investment options which are simple to understand and give you the option to set your own rate. These are the Rolling Market, the 1 Year Market and the 5 Year Market investment products.
Diversifying your portfolio
You can diversify your investments across a variety of different borrower types and sectors. This is a great way to minimise the impact of any loss that may occur from a loan that fails to perform well because you will be spreading your funds as opposed to putting it all into one investment.
Rate Setter Services
Providing you with the best customer service is something that we do not compromise on whatsoever
It's not surprising then that we have achieved a 97% customer satisfaction rating on TrustPilot- an independent review website.
Start growing your money
We have won awards for the peer-to-peer provider of the year (2016, 2017 and 2018) and the award for Best Consumer Peer-to-Peer Provider for four years running (2015-2018). Your positive experience with us is clearly at the top of our to-do list. So after doing your research, you have decided that RateSetter is the best opportunity for you. Register for an online loan, choose your term and start earning. It really is that simple!
Borrowing with us
We offer three types of loans for our borrowers: personal loans (up to £35,000), asset finance for business loans (up to £500k), as well as property finance for professional property developers (from £500k to £7.5m). You can borrow over a period of 1-5 years at attractive rates, allowing you to achieve your unique goal much easier.
Rate Setter Product Details
Loan Type

Peer-to-peer loans

Interest Rate

from 3.9%

Loan Amount

up to £35,000

Repayment

1 year to 5 years
Summary of Services
Get a quote that is personalized
A decision in 24 hours
Money available in your account the next day
Investing with us is flexibility at its best
With a track record of 100%, the Provision Fund- a unique way in which we protect our lenders from losing their capital.
This serves as a buffer against borrowers who fail to repay their loan by reimbursing investors their outstanding funds owed to them
The reserve fund
We have a reserve fund which automatically steps in when the borrower fails to complete a loan. Unfortunately, although every one of our individual investors has recovered all their money, there is no guarantee that we will always be able to do this as funds may become depleted due to increased loan defaults. Until then, however, we will continue to ensure that all our customers are happy and satisfied.
Investing with us
When you invest through us, you have the option between two types of investments, namely, The Everyday Account and The RateSetter Innovative Finance ISA. Both come with great benefits but it's up to you to choose the one you think is best for your needs. The Everyday Account offers you the possibility to earn returns of up to 6% p.a. and you have the protection of the Provision Fund should any of your loans default.
All these benefits are carried over into the Innovative ISA, except there is an added benefit of tax-free returns and you have the freedom to withdraw and replace funds without affecting your ISA allowance within the same tax year.
We lend to creditworthy borrowers
We take the responsibility of looking after your money very seriously and so we work hard to manage it in the best way possible at all times. Any investment will naturally carry some risks with it. That is why we have measures in place that help to control these risks. We are careful of who we approve as our borrowers.
Thorough credit checks ensure that all our borrowers are creditworthy, which takes the worry out for our lenders because you can always trust that your money is going to trustworthy individuals and businesses.
Customer Reviews & Testimonials
"
I had bad credit score and I was struggling to get loans until Rate Setter entrusted me
Simon E
— Cardiff —
I applied for the loan online and receive the response within 24 hours
Megan T
— Oxford —
Rate Setter Contact Details
Contact Number
E-Mail
Website
Physical Address
6th Floor, 55 Bishopsgate

London

England

EC2N 3AS

United Kingdom
Opening Hours
Monday

08:00 – 19:00

Tuesday

08:00 – 19:00

Wednesday

08:00 – 19:00

Thursday

08:00 – 19:00

Friday

08:00 – 19:00

Saturday

09:30 – 17:30

Sunday

– Closed