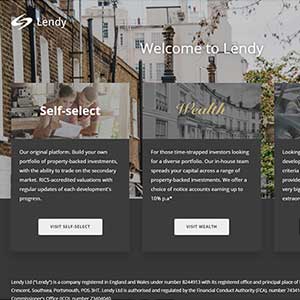 About Lendy
Lendy is a high-income peer-to-peer lending platform with a focus on property
By creating a platform where investors can lend money directly to projects which are beneficial to the economy, we are playing an important role in helping the economy to expand.
A reputation for excellence
As one of Europe's leading P2P secured property lending platforms, you can trust that you will be treated in safe, experienced hands. Our philosophy is to create loans for the UK public that are faster, easier and simpler to access. In addition, a key motivator for us is helping to grow the UK economy.
Top-quality customer service
As part of our never-ending commitment to providing you with top-quality customer service, we take pride in ensuring that every proposal for an investment opportunity goes through our rigorous assessments before being accepted. We boast one of the most experienced teams in the industry made up of highly qualified specialists who carefully assess every application to ensure that only those feasible and creditworthy are offered to for our investors.
Lendy Services
No more lengthy forms that need to be filled out one after the other in a continuous stream of never-ending paperwork and no more waiting to find out whether your online loan has been approved or not.
As an investor, you can set up your account with us, add funds and confirm the amount you would like to invest all in a matter of minutes!
There is no minimum investment amount
You can immediately start earning interest of up to 12% per year. Loans are usually repaid after a 6 month period and all interest earned is deposited monthly, directly into your account. At the end of the term, you will receive your initial investment along with any outstanding interest.
Withdrawal of funds
You can either withdraw the funds or reinvest it into another project. Any funds that have been credited to your account but haven't been committed to any project on our platform can be withdrawn whenever you wish.
Lendy Product Details
Loan Type

Peer-to-peer loans
Summary of Services
Peer-to-Peer Loans
Investing
We provide protection for your investments
We guarantee you we help in managing risk
Unfortunately, as is the usual case, there are no 100% guarantees with any investment that you will make. However, we at Lendy don't want to leave you out to dry should a loan default.
You have plenty of options
Borrowers have a choice between two of our property finance products: unregulated bridging loans (short-term loans) for residential, commercial, semi-commercial and land projects lasting for 12 months or less, or unregulated loans for developing residential projects or semi-commercial projects in England and Wales.
With this borrowers can borrow for up to 24 months. If you are able to, you can also repay your home loan before the end date. Whatever the project, big or small, we can provide you with the development or refurbishment finance for your project, regardless of the type or stage.
We are transparent
Unlike many other conventional financial institutions, you will never have to worry about any nasty surprises (like those frustrating hidden fees) when you use our P2P lending platform. We are open with you about everything you need to know when borrowing or lending with us. We give you detailed information about our processes and what you need to look out for, all to ensure that you can make the best decisions for you.
We work hard for you
Instead, we make every possible effort to minimise any loss that might occur. Our team puts in a lot of effort and hard work to make sure that, wherever possible, all investments can be paid back in full and on time. For this reason, we have put measures in place that provide some protection for you.
Because loans will not exceed the maximum of 70% of the open market value, this further increases the possibility of you recovering your funds through the sale of the property.
Customer Reviews & Testimonials
"
Excellent customer service
Emily K
— London —
Knowledgeable and efficient employees
John L
— Bath —
Very liable lender I know
Amber H
— Manchester —
Quick service. I got the money sooner than expected
Garry S
— Cardiff —
Lendy Contact Details
Contact Number
E-Mail
Website
Physical Address
Brankesmere House, Queens Cres,

Portsmouth

England

PO5 3HT

United Kingdom
Opening Hours
Monday

09:00 – 17:00

Tuesday

09:00 – 17:00

Wednesday

09:00 – 17:00

Thursday

09:00 – 17:00

Friday

09:00 – 17:00

Saturday

– Closed

Sunday

– Closed