Home loans up to £25,000,000
Low-interest starting from 4.29%
Repayment up to 3 years
In-page navigation
---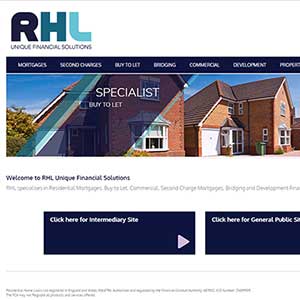 About RHL
No matter what your situation, we at RHL Unique Financing Solutions will deliver our very best with every one of the home loans in the UK that we administer.
Our team of specially qualified advisors will precisely and efficiently solve your home financing challenges. Because of our outstanding relationships with our very capable lenders, we have, for your benefit, access to both the general and niche markets of home loans in the UK.
Specialist mortgages from us, with you in mind
Your specialist mortgage, brought to you by Residential Home Loans, will manifest from markets not easily accessed by the public, and with extremely competitive features and prices. We will usually be able to provide you with a decision in principle within 24 hours, and our rates for specialist mortgages go as low as 4.35%, with the cost for comparison being 4.35% APR.
Do not settle for less
As is appropriate for our prospective customers, you can expect the best advice and the most individualised mortgage deal possible from our highly-skilled team. There also is no maximum age attached to our special mortgages and personal loans, which are interest only.
They are accessible to those with challenging credit, the recently employed and the self-employed, and we will consider your overtime, bonus and other declarable income as income. Additionally, we accept non-standard construction properties in our special mortgages.
RHL Services
We will bring all the quality and respect that you deserve into all aspects of your home finance experience.
You can phone us for no-obligation advice or ask for a callback. Second charge mortgages or a second charge on your mortgage using your equity as security are often subject to lower rates and are therefore suitable for both the self-employed and employed.
Our excellent second charge mortgages
Those with low credit or challenging credit history can apply for our second charge mortgages, and DWP, as well as additional income, will be counted as income. The minimum time you must have been employed is only 2 months, and the minimum time you must have been self-employed is only 6 months.
Why our bridging loans are exactly right for you
If you would like to start a short loan of no more than 12 months, we can provide you with an interest-only bridging fast loan with the option of rolling up your interest into your loan. We can provide you with between £26,000-£25,000,000, up to 80% of the open market value or 100% if you put down extra security, and monthly rates as low as 0.44%.
In addition, this daily interest-based loan allows for both regulated and non-regulated loans, both first and second charge lending options, and both residential and commercial property.
RHL Product Details
Loan Type

Home loans

Interest Rate

from 4.29%

Loan Amount

up to £25,000,000

Repayment

1 month to 3 years
Summary of Services
Quick funds
Fast and efficient personal service
Affordable interest rates
We are commitment to your homeownership
When it comes to challenging cases of home loans in the UK, you can ask for no better than RHL Unique Finance Solutions to back your corner.
RHL Unique Finance Solutions offers to buy to let deals for both investor landlords and first-time buyers of home loans in the UK. Benefits of choosing us for your buy to let mortgage include up to 85% loan-to-value, unrestricted capital raising.
The best buy to let mortgages in the business
We will also grant buy to let mortgages for property portfolios, non-standard construction properties, multiple occupancy/student let, development and property refurbishment, commercial property, new builds with or without builder's deposit, HMOs, expatriates, foreign nationals, and first-time landlords. Another buy to let mortgages we accept are for multi-unit properties, single dwellings, large portfolios, and limited companies.
Benefits of a buy to let mortgage with RHL
Unique financial solutions are acceptance of the recently self-employed, competitive interest rates, and our willingness to refinance your existing mortgage to start a new one with us.
Our offers will also accommodate non-status loans, part- or full-interest roll-up, refurbishing or change of use. A bridging short-term loan from us is also accepting of arrears, CCJs and low credit scores, available in England, Wales and Scotland, and usually does not require an exit fee.
Enhance your development financing experience
In terms of our development financing offers, which are short-term and can be non-status, we can organise funding for individuals, developers, limited companies, partnerships and builders. Our development finance is usually interest only and could last for 6 months or even more, depending on your goals.
Your development loan is tailor-made
Whether for conversion, refurbishment or new building projects, whether commercial or residential, if you have the relevant experience, we may provide you with 100% of your funds. Therefore, your home loans in the UK, or any other home financing, is best handled by us.
Customer Reviews & Testimonials
"
Thanks RHL for giving a home loan
Emily W
— Oxford —
They gave me the best deal for me! I am so glad I chose RHL
Vince K
— Birmingham —
They gave me a loan that was suited specifically for my needs! I was impressed
Darren L
— York —
RHL Contact Details
Contact Number
E-Mail
Website
Physical Address
Residential Home Loans Ltd Moundsmere West End Lane

Henfield

England

BN5 9RB

United Kingdom
---
Postal Address
RHL PO BOX 2599 , HENFIELD , BN5 0EF