Bank of Scotland plc
Updated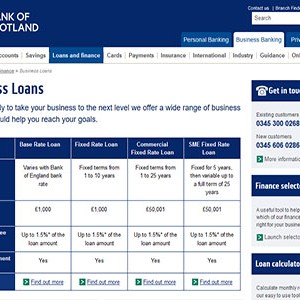 About Bank of Scotland plc
Only the Bank of Scotland can ensure that your car loans in the UK meet all your personal needs as a prospective automobile owner.
Be sure to consult our car finance calculator to get a good general idea of a potential fixed or flex car purchase plan. You can also obtain an obligation-free quote, which does not require a credit search as we already know you, from our website.
The benefits of our car finance plans
Our Car Finance Plus will allow you to buy either a fixed (hired purchase) car loan or flex (personal contract purchase) car loan, with 3.8% APR representative if you borrow between £7,000 and £25,000, and no early repayment charges. Generally, you can borrow between £3,000 and £60,000 with our Car Finance Plus.
A fixed car finance plan
With your fixed car plan, your monthly payments are fixed, you will own the car after your loan is fully paid, and you will have no mileage limit; your flex car plan features low fixed monthly payments and the choice at the end of these payments to either return the car or own it in exchange for the lump sum.
Bank of Scotland plc Services
If competitive pricing, quality and customer service are the order of the day, our car loans in the UK fit the bill.
After your application is accepted, you will be given 90 days to accept our excellent car finance offer, and no matter how many applications you submit, we will not conduct a credit search. Please feel free to phone us about any questions you have regarding your online application.
The benefits of our service
You do not have to be on the electoral/voters role for us to approve your car finance loan. No paperwork from your side will be required, as details of your finance agreement will be emailed to you. We will then send you a welcome letter to confirm your monthly payments and direct debit details. You always retain your right to terminate your car loan deal.
A loan that gives you control
With your online Car Finance Plus account, you can make a payment, check your statement and change your payment date, by entering in the agreement number we will send you, or phone us if you have lost this number. If you have added a part to the car, we would be willing to remove and return it to you, if you ask in writing, and for a fee.
Bank of Scotland plc Product Details
Loan Type

Vehicle finance
Summary of Services
Car Loans
Personal Loan
Flexible Loans
We secure your car finance journey
Our attention to detail and accommodation of your challenges are why the wise seekers of car loans in the UK come to us.
You can open a joint account so that whoever is signed in when they apply for a loan will be the one who will be registered with the loan. You can request an early settlement figure online if you want to conclude your deal early, and our customer service team will be more than willing to help you.
The flexibility of our personal loans
If you would prefer to deal directly with a private seller or dealer, you could take out a personal loan, and therefore be able to borrow between £1,000 and £50,000. Other benefits of this strategy include owning the car from the start, not having to only use the loan for the car, and consolidating all these debts into one loan in order to facilitate easier payment. An unsecured personal loan with us also does not require a deposit.
Our unique loan process
After you choose your car at a selected dealership, we will pay them, either that day or the next after you sign all the online legal documents, directly for your convenience so that you can drive off and start your car finance journey much sooner. Additionally, we will assist you in resolving any disputes between you and the dealer.
Car finance loan convenience and accessibility
You may apply for a car finance loan if you are a UK resident aged 18 or over who are registered for internet banking and has held your existing Bank of Scotland personal current account for at least 3 months. We also accept applications for a car loan from clients with bad credit. This loan also allows you to buy either a new or used car. You are also permitted to part exchange with the dealership.
Exemplary car insurance with Bank of Scotland plc
You get 3-year repairs to guarantee at approved garages
a 24-hour emergency windscreen helpline
new car replacement if you had owned the car new for less than twelve months
vandalism cover
a courtesy car while your car is at an approved repairer
We offer high-quality supplemental insurance too
You can also enhance your policy with breakdown cover features such as EU, onward travel, recovery, at home and roadside cover, that operate on a yearly basis. Keycare cover with us includes up to £1,000 cover throughout the EU, for locking your key in your car, including cover for nearby and immediate family, and no applicable access, as well as not affecting your no claims cover.
Guaranteed replacement car cover lends you a car from a leading national network for 28 days if you claim within 14 days after your car is burnt, stolen or in an accident. The best choice for car loans in the UK can only be the Bank of Scotland.
Customer Reviews & Testimonials
"
My dad always wanted a car for his own, but I could not find cheaper car loans until I heard about Bank of Scotland's loans. Thanks to them my dad is a car owner now.
Isaac H
— Edinburgh —
I love how the consultant laid out how rate sand install will be. I was satisfied with the information that provided to me
Violet G
— Wales —
Personal contract hire worked well for my family as we needed a big car for our vacation. The rates were affordable I was able to rent a car for a week
Williams Bay
— Norwich —
Bank of Scotland plc Contact Details
Contact Number
E-Mail
Website
Physical Address
Trinity Road

Halifax

West Yorkshire

HX1 2RG

United Kingdom
Opening Hours
Monday

09:00 – 17:00

Tuesday

09:00 – 17:00

Wednesday

09:00 – 17:00

Thursday

09:00 – 17:00

Friday

09:00 – 17:00

Saturday

09:00 – 12:00

Sunday

– Closed