The Car Finance Company and GCC Servicing
Updated
Vehicle finance up to £10,000
Low-interest starting from 49.6%
Repayment up to 48 months
In-page navigation
---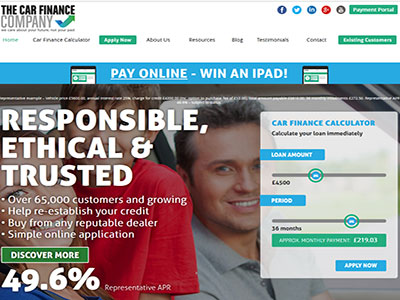 About The Car Finance Company and GCC Servicing
When it comes to exemplary affordability, quality and transparency in your car loans in the UK, The Car Finance Company and GCC Servicing are the winning team for you.
You can trust us to communicate with you in a transparent, clear and simple way, and to provide you with support when it is most needed.
The convenience of our online facilities
Our online payment portal allows you to pay us anywhere, anytime, for free, without even needing to register or log in, and if you are having challenges with it, simply email or phone us. Nevertheless, your registration for a quick loan will also be easy, and existing customers can now administer their loan agreements online.
Business, and excellent service, as usual
We at GCC Servicing will now manage all of The Car Finance Company's hire purchase agreements. Car financing in the UK with us means that you deal with a UK-based call centre and that we, regulated and authorised by the Financial Conduct Authority, will help you find the very best solutions for your challenges, and provide you with support when it is most needed.
The Car Finance Company and GCC Servicing Services
You deserve only the best service for your car loans in the UK, and so we are very happy to provide just that.
Feel free to call or email us to answer any questions you might have regarding your car loan, such as to request a settlement figure or to discuss your financial challenges.
Our privacy policy and your interests
In terms of your privacy, we will secure and ensure the safety of all your personal information, be transparent about our sharing, processing and usage of it, and never give it to a third party without your consent, except in the case of a legitimate business or legal reason. All pertinent business dealings will be explained to you, and will not unfairly go against your best interests. The only information of yours we hold is directly supplied from the debt holder.
Your privacy is our priority
When we at GCC Servicing, otherwise known as Go Car Credit Limited, ask for your information to organise your credit reference and loan agreement, we will ask you for your preferences, consents and permissions of choice, as well as how you want us to contact you for marketing purposes. In the case of approved market research companies, who help us find clients, we will not provide them with your name, so that they cannot identify you with your information.
The Car Finance Company and GCC Servicing Product Details
Loan Type

Vehicle finance

Interest Rate

from 49.6%

Loan Amount

up to £10,000

Repayment

12 months to 48 months
Summary of Services
Interest rates are lower
Transparent services
Excellent customer service
We are your best option for car finance
Comprehensive, affordable and personal loans in the UK are always the ultimate goal in every decision we make.
Be sure to call or email us about any complaints you may have and we will try to answer within 72 hours. Also, the payment reminder device in your car will not monitor your driving or in any way affect your car. You can apply for a loan with us even if you have a bad credit history.
Privacy and protection for your information overseas
If we send your information outside the European Economic Area, it will only be in countries with privacy laws just as strong. We will insist on the company signing a contract respecting these restraints, or we will involve only those US companies under Privacy Shield with the UK, which protection equal to ours. Our US payment reminder device supplier, passtime, is always being carefully watched by us under similar conditions, and we are responsible, under UK law, in this respect.
You have control over your information with us
Sharing your information with us also allows us to inform you of offers and product opportunities. You can adjust how we market to you at any time by contacting us. Within six months before your agreement with us ends, we will contact you regarding all the relevant statistics of your account closure, transfer of vehicle ownership and potential products and finance deals that could greatly benefit your car finance journey. We only keep your personal information either until your account closes or until the debt owner orders that your information is either deleted or anonymised.
Customer Reviews & Testimonials
"
I could not afford to buy a car but The Car Finance Company gave me a loan
Williams B
— Norwich —
Buying a car is not a good decision because there are many things to consider but Linda who was my service advisor made it easier and simple. He took few days to ensure that I get a car
Isabelle C
— Perth —
The Car Finance Company and GCC Servicing Contact Details
Contact Number
E-Mail
Website
Physical Address
47-51 Kingston Crescent

Portsmouth

PO2 8AA

United Kingdom