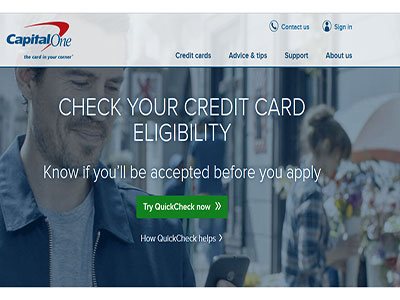 About Capital One
Capital One is the credit card in your corner.
We bring together simplicity and humanity for the ideal credit card. We make getting credit cards simple and practical for you. Since we issued our first card which was way back in 1996, we have since grown immensely, becoming one of the UK's top ten credit card providers.
We are innovative
From the foundations of our establishment, we have always been focused on helping people succeed with credit, placing high emphases on our customer's satisfaction. We offer innovative tools like our QuickCheck which simply and quickly can determine your eligibility for a credit card with us. In addition, we're the only card provider with a 4-star rating credit card from Fairbanking.
We keep things simple
By knowing if you'll be accepted before applying to make easy payments on your mobile, we make managing your money simple and effortless. You can fill out the online application form and we will let you know the outcome in the quickest time.
Capital One Services
We advise you to use your card sensibly by making your monthly minimum payment timeously and keeping below your credit limit.
This will help you position your credit rating better with the possibility to be eligible for credit limit increases. Failing to do so, could harm your credit reputation. For instances, if you apply for a credit card we'll run identity and fraud checks as such, could prevent us from opening your account.
Clear and transparent
We communicate clearly and concisely without any confusing jargon. With us, we are transparent and you will always know what to expect from us, no unexpected surprises. You can apply for a credit card even if you have a bad credit rating. We won't judge you on a poor credit score.
Succeed with credit
We strive to help people succeed with credit, as such we do this by placing our customers at the centre of everything we do.
Capital One Product Details
Summary of Services
Credit Cards
Online Services
Choose the best solution for you
Credit cards can be a convenient addition to any wallet or purse and are suitable when needing to spread the costs of one-off purchases.
There are so many credit cards on the market, and searching for the right credit card can be overwhelming. As such, the best credit card for you will be one that is tailored to your specific needs.
Classic credit card
The Classic credit cards are our most popular card with over 4 million people accepted. Its, ideal for individuals with bad credit or building credit. We offer £200 - £1,500 credit limit and up to two optional credit increases per year, subject to suitability. You save money by transferring your higher-interest credit card balances with us. In the event you have an excellent credit rating, we will offer you:
A credit limit up to £6,000
At 0% on balance transfers for 12 months
A 2.9% transfer fee
0% on purchases for the first three months
Here are common credit card options on offer:
Credit cards / bad credit/ build credit
Balance transfer cards
Cashback and rewards
Foreign usage cards (fee-free)
Applying for a credit card
When applying for a credit card, here are some helpful tips to ensure the process is smooth and hassle-free. Always make use of an eligibility checker
Some eligibility checkers tell you how straight away how likely you are to be accepted for a credit card. In addition, an eligibility checkers won't affect your credit score. We have a great eligibility tool Quick Check which gives you a definite yes or no in 60 seconds. So, you can be 100% sure where or not you qualify for a credit card before you begin the application process.
Check your credit score
Did you know, a healthy credit score could improve your chances of being accepted for a credit card? In addition, it could also open up various credit options for you.
Check the APR
By checking the APR you can easily determine how much the card will cost you in the long run. As such, comparing APR is a useful way to decide on a suitable credit card. With us, we promise the APR you see when you apply, is always what you get.
For instance, A representative example - Assuming a credit limit of £1,200 and an interest rate on purchases of 34.94% p.a. (variable), you could receive a 34.9% APR (variable).
Customer Reviews & Testimonials
"
I could not believe when I received cash back on my credit card.
Kelly B
— London —
I was able to open a classic credit card though I had a bad credit
Bianca B
— Oxford —
I was travelling and I was not charged even a cent for using my credit card abroad
Elliot E
— Dundee —
I had no money when my brother was getting married, thanks to Capital One, my credit card helped so much to buy clothes for me and my mother
Marcia H
— Leeds —
I had no money when my brother was getting married, thanks to Capital One, my credit card helped so much to buy clothes for me and my mother
Marcia H
— Leeds —
Capital One Contact Details
Contact Number
E-Mail
Website
Physical Address
Trent House, Station St

Nottingham

England

NG2 3HX

United Kingdom
Opening Hours
Monday

08:00 – 21:00

Tuesday

08:00 – 21:00

Wednesday

08:00 – 21:00

Thursday

08:00 – 21:00

Friday

08:00 – 21:00

Saturday

08:00 – 18:00

Sunday

08:00 – 18:00