Nectar points
Bonus points
Low-interest starting from 21.9%
In-page navigation
---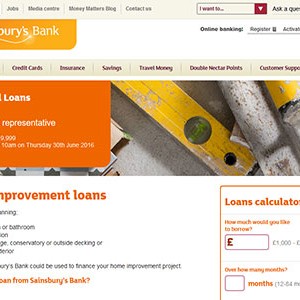 About Sainsbury's Bank
Sainsbury's Bank is proud to be the UK's first supermarket bank and we are proud of our heritage.
We were the first major supermarket to open an in-store bank in the UK in February 1997. And, in 2014 Sainsbury's took over 100 percent ownership of Sainsbury's Bank.
Our credit card
We have a variety of credit cards for purchases, balances transfers or even a combination of both. You earn points with Nector for every spend you make at shops. Plus, as a new customer, you'll also gain 750 bonus Nectar points every time you spend £35 or more on your Sainsbury's shopping. Collect these points in your first two months of account opening, on up to ten qualifying shops, in otherworld's 7,500 bonus Nectar points.
Award-winning financial services
We offer our customers a selection of award-winning financial products which include attractive rewards for Sainsbury's shoppers. For example, credit cards, savings, personal loans, mortgages, travel money as well as vehicle, home, pet, travel and life insurance. These services can be accessed online or by telephone.
Sainsbury's Bank Services
We offer our shoppers great deals and rewards for choosing to shop and bank with us.
If you are a Nectar cardholder, you also receive additional points and preferential rates across a range of products. We offer a multitude of services to our customers.
30-month balance transfer
You get 0% interests on balance transfers for up to 30 months
And, get 0% interest on purchases for three months
APR of 19.9%
The purchase rate is 19.95% p.a. (variable)
A balance transfer fee of 3% (£3) applies to transfers made an application. The fee will depend on your current offer thereafter
Earn 2 points for every £1 spent on Sainsbury's shopping and fuel
Plus, earn 1 point for every £5 spent on your card anywhere else
No balance transfer fee
Get 0% interest on balance transfers for 22 months
You pay 0% interest on purchases for 3 months
APR of 19.9 %
No Balance transfer fee, however, a 3% balance transfer fee charged initially and fully refunded within 60 days
Sainsbury's Bank Product Details
Loan Type

Credit cards

Interest Rate

from 21.9%
Summary of Services
Nectar member rewards

Manage your finances 24/7

0% interest on balance transfers for up to 26 months
Sainsbury's bank is the UK's most reliable bank
Our Nectar Credit Cards are available to new Sainsbury's Bank Credit Card customers only.
We treat all our customers and their applications for Nectar Credit Card on a case by case basis. Our interest rate and credit limit offered are determined by the information you provided, along with an independent credit verification and repayment history.
To maintain your promotional rate, you'll need to pay at least the minimum payment by the due date and you will need to stay within your credit limit. The Nectar reward points collected by using your credit card are in addition to the points earned from swiping your Nectar Card or when using it online during a transaction.
Purchase Credit Card
You get 0% interest on purchases for up to 27 months
Get 0% interest on balance transfers within your first 3 months
A balance transfer fee of 3% applies on transfers made an application
APR of 20.95%
Plus, zero annual fee
Assumed credit limit £1,200
Duel offer Credit Card
You get 0% interest on balance transfers for 28-months
A balance transfer fee of 3% applies on transfers made an application
0% interest on purchases 28 months
No annual fee
Take note, before applying for a credit card with us you must be:
18 years or older
A resident of the UK
We strive to make our services accessible to as many as possible, as such we have banking support to accommodate your individual needs.
Accessibility and disability services
If you have a hearing or speech impairment, we are able to assist you. You can contact us by Typetalk, or specialized textphone applications. Or, if you have a visual impairment, we can provide documents in large print, audio or even braille. We want to help all clients with disabilities or bad credit scores.
Customer Reviews & Testimonials
"
I like how they handle customer service. Very professional
Andy A
— Boston —
They are the best! I am happy I decided to go with Sainsbury's Bank
Barry A
— Southampton —
Sainsbury's Bank Contact Details
Contact Number
E-Mail
Website
Physical Address
62 Wandsworth Rd, Nine Elms

London

England

SW8 2LF

United Kingdom