Santander Credit Cards
Updated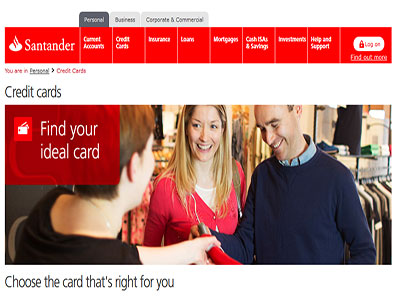 About Santander Credit Cards
Santander is a large retail and commercial bank, based in the United Kingdom (UK).
We are wholly owned by a subsidiary global bank of Banco Santander. We have 14 million customers across the UK, in addition, 5 million digital customers and 1,400 new mobile users each day. And we continue to expand and grow steadily.
Our credit cards
We offer our customers a wide selection of credit cards options perfectly designed to meet each customers individual's needs.
All-in-one credit card
This credit card is everything you could need in a credit card.
You get 0% interest on balance transfers and purchases for up to 30 months from the day your account opens.
0 balance transfer fee
You get 0.5% cashback on all your purchases
Your foreign transaction fees are free on purchases made abroad in the local currency
We only charge £3 per month for your account fee
Santander Credit Cards Services
An Everyday Credit card will allow you to save on balance transfers
Zero Credit Card
A Zero Credit Card is the perfect credit card when travelling abroad.
Zero foreign transaction fee on all purchases made abroad in the local currency
Fee-free cash withdrawal anywhere in the world
Zero monthly account fee
Santander World Elite Mastercard
World Elite is designed to unlock a world of benefits for you, this credit card is suitable for Santander Select and private customers only.
Free access to over 1000 airport lounges and over 1 million Wi-Fi hotspots across the globe
Foreign transaction fees are free on purchases made abroad in the local currency
You can earn cash back on everyday spends and much more
Only pay £15 per month for account fee
Santander Credit Cards Product Details
Summary of Services
Personal Loans
Credit Cards
Mortgages
It's easy to keep track of your Santander Credit Card
As a valued customer, you gain access to the Santander branch network.
Our online and mobile banking services are efficient and come with text and email notification, so you can monitor transaction activity anywhere and at any time. You may have up to three additional cardholders. We also have a large range of loans to choose from: personal loans, car loans and home loans.
How does it work?
Santander debit cards are simple and easy to use, however you may need to use an ATM or make a purchase using chip and PIN for the contactless payments to be activated. Simply activate your new credit card through either our convenient online banking service or by calling our customer service department. Steps to activate your credit or debit card:
Log on to Santander online banking
Select the my details & settings tab
Move to other services
Chose either debit card or credit card services and click to activate your card
We will send your registered mobile phone number OPT to complete the process
If you struggle to activate your card online, you can call our customer care service department
We believe in investments
We have invested £19.4bm in the Discovery Project through community involvement. In addition, we recycle 99% of waste from landfills. Furthermore, we have invested 104,800 days of training in our employees.
An everyday credit card will provide you with the following:
You get 0% interest on balance transfers for up to 27 months from the day your account opens
O balance transfer fee
You pay 0% interest on purchases for up to 3 months from account opening
The monthly fee is free, no monthly charges
Tips for protecting yourself from fraud and scams
With fraud costing people in the UK around £10.9 billion each year, we have put together 5 top tips to identifying scams and staying safe.
Never share your Santander OPT with another person, not even a Santander employee
Never download software or let anyone remotely log on to your computer or devices, regardless during or after a cold call
Never insert your Online Banking details after clicking a link in an email or text message
Never transfer or withdraw cash out of your account if you're instructed not to do so, for security reasons
Never set up new or change existing payment details without first verifying the request directly with the respective person or company you're paying. Preferably using the existing contact details
Customer Reviews & Testimonials
"
Their credit card offers are incredible!
Kevin E
— Norwich —
I find their online services very convenient. It helps me out a lot
Peter G
— Nottingham —
Shopping abroad was easy because they don't charge extra for foreign currency exchange
Harry W
— Birmingham —
Santander Credit Cards Contact Details
Contact Number
E-Mail
Website
Physical Address
Sheffield

S9 2EG, UK

United Kingdom