Easy Loans Company
Updated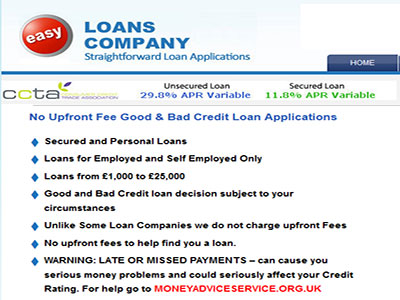 About Easy Loans Company
From time to time, we all find ourselves in need of a bit of help.
Anyone can get into debt - you might fall into the trap of overusing your credit card or after taking out some loans your financial situation changes. This is where we come in.
Offering the assistance that you need
Easy Loans Company offers the assistance you need to help you get out of debt. We are a UK-based licensed credit broker, committed to helping our customers get into a position in which they can be able to help themselves.
Quick and reliable loans
We help provide the UK public with easy and efficient personal loans while offering a quick and professional service, which we are immensely proud of. We achieve this by working with expert loan service provider Monevo, who connect our customers with lenders on their database. Loan amounts range from £1000 to £25 000.
Easy Loans Company Services
We understand that you're already in a challenging situation. Therefore, our processes are designed to be as uncomplicated as possible.
Our application process is online, this makes it a lot more convenient for you-you can apply at any time in the comfort of your own home or office.
Get the most rewards for less effort
Once you submit your online application, we'll connect you to Monevo's lenders who'll provide you with the loan you need. In this way, we are able to provide you with the best possible deals in a quick and easy way.
Tailor-made loans
So you get exceptional service with minimum effort. Simply put, we do all the work to ensure that your needs can be met, providing you with a no-obligation quote when we do. So we'll help you find the best debt consolidation loans for you and we won't charge you any upfront fees. Just fill in our simple online form and leave us to do the rest.
Easy Loans Company Product Details
Loan Type

Debt consolidation loans
Summary of Services
Debt Consolidation Loans
Personal Loans
Bad Credit Loans
A debt consolidation loan can really help you to regain control of your finances
The problem with having a lot of debt is that it can become quite daunting to handle, especially if you don't have a structured plan to manage it.
This leads to so many consumers struggling to keep track of what needs to be paid at what day of the month and at how much. A debt consolidation loan can help you in this situation.
But what does consolidating your debt really mean?
Consolidating your debt allows you to take all your existing unsecured debt and package it into a single loan, meaning you only have to keep up with one payment (instead of many payments) to one lender. Not only does this allow you to manage your money in an easier way but it will also allow you to improve your finances over time as well, as you are less likely to miss a payment.
Repair your credit score
If you keep up with making your payments on time and in full, as time goes by, you will be able to rebuild your credit score and create a payment profile that is more favourable to other lenders.
Consolidating your debt comes with its advantages and disadvantages
Before you decide to take out such a loan, it's very important that you take some time to do your research and find out what the loan fully entails and what it will mean for you personally.
You need to understand the full obligations you will assume so that you'll know whether a debt consolidation loan will be more or less beneficial for you, taking into consideration your unique needs. Our website offers valuable information in this regard. If the answer is yes, don't waste time. Get in touch today.
Customer Reviews & Testimonials
"
The assistance they offered me was really good and made things much easier
Debby H
— Oxford —
They helped me out of my debt and I can't show my appreciation enough
Alice W
— London —
Easy Loans Company Contact Details
Contact Number
E-Mail
Website
Physical Address
Bridgewater House, 58-60 Whitworth St

Manchester

England

M1 6LT

United Kingdom
Opening Hours
Monday

09:00 – 20:00

Tuesday

09:00 – 20:00

Wednesday

09:00 – 20:00

Thursday

09:00 – 20:00

Friday

09:00 – 20:00

Saturday

10:00 – 14:00

Sunday

– Closed