Debt consolidation loans up to £10,000
Low-interest starting from 2.8%
Repayment up to 84 months
In-page navigation
---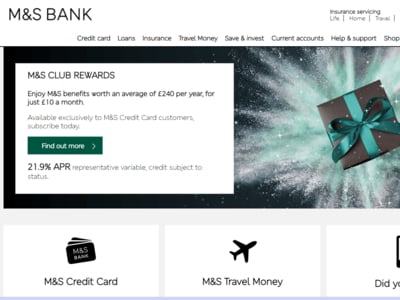 About M&S Bank
Keeping debts under control over various accounts in tough economic times can be a fine balancing act for most people.
Marks & Spencer Bank is a financial services institution based in the United Kingdom that offers debt consolidation loans to those who struggle to pay off debt. M&S Bank available on the portal offers loans to people who battle to settle debt, be it credit cards, retail accounts or loans.
M&S is a role player in the market
M&S Bank is a trading name of Marks & Spencer Financial Services plc. The bank was launched in 2012 on the foundations of M&S Money, as a joint venture between HSBC and Marks & Spencer. The bank's aim is to bring "trusted M&S values to banking and provide customers with a fresh new experience".
M&S Bank is regulated by the Financial Conduct Authority and takes pride in its highly qualified personnel, who have provided top financial advice and banking products to clients over the past nine years.
A helping hand
With the Covid pandemic sweeping the world, M&S Bank lives up to its motto of helping clients become financially secure. M&S have a special open communication line for dedicated NHS health workers between 6 and 7 pm each day.
Through this exclusive medium, the bank promises to address the financial needs of NHS health personnel with care and dedication. The bank offers to those who qualify for temporary increases in credit card or overdraft limits. Clients who would like to discuss their financial circumstances can visit the bank's online contact page.
M&S Bank Services
An M&S Bank personal loan is specifically tailored for people who are opting for debt consolidation because they are struggling to pay debts.
Outstanding credit card balance or struggling to pay off a loan or battling to settle monthly retail store accounts? Not to worry. M&S has a plan for everyone. Debt consolidation is an option for many clients who prefer to consolidate all loans into a single payment.
Interest rates are therefore lower once the consolidation has been granted and repayment fees are adjusted according to affordability. M&S Bank assists the process by granting loans to clients at affordable interest rates and viable repayment plans.
Boost your financial well-being
A personalized loan helps clients control overall debt better while managing outstanding debt through one consolidated loan
M&S puts it on the table
By consolidating debts with an M&S personal loan, clients could benefit from:
The option to repay any loan over a period of 12 to 84 months on loans between £1,000 and £20,000, or over a period of 12 to 60 months on loans between £20,001 and £25,000
No arrangement or set-up fees
The option to make overpayments free of charge – this may reduce the amount of interest to be paid.
Customers who do not meet normal lending criteria may be offered a loan at a different APR. This will depend on the client's personal circumstances. The loan amount and term requested will also impact the rate offered.
M&S Bank Product Details
Loan Type

Debt consolidation loans

Interest Rate

2.8 – 21.8% p/a

Loan Amount

up to £10,000

Repayment

12 months to 84 months
Summary of Services
No arrangement or set-up fees
Flexible repayment plans
Free of charge overpayments
M&S Bank - Goes above and beyond for you
M&S refers clients who may be struggling with finances to their financial support platform on their website that will direct customers to the appropriate section.
M&S is always understanding of the situation. Once an adviser has studied the client's financial standing, will suggest a new repayment plan. The bank has partnered with Step change Debt Charity which can provide free, tailored support with a variety of providers. Customers can click on the financial management page to check out the various independent charities offering help.
Criteria to meet for M&S Personal Loan
Have an annual income/pension before tax of £10,000 or more
Be a resident of the UK
Be over 18.
In partnership with Experian, M&S conducts a search of the client's credit file. This does not affect credit rating.
If the applicant agrees to the quote, the bank will conduct a full reference check and affordability assessment before a loan is finally granted.
Support for those with disabilities
M&S Bank provides support to the physically and mentally challenged in various ways:
The bank has talking ATMs, ATM withdrawal limits, large M&S Passes and touch ID options to help ensure the physically and mentally challenged can have access to money.
M&S has chip and signature cards, to make using an account easier.
The company provides help and guidance to customers living with dementia, to help them manage their finances.
The bank offers documents in Braille, large-print and audio, as well as reader-compatible internet banking screens.
These groups can nominate a trusted family member or close friend to help support financial decisions and manage an account where a Power of Attorney or Third-party mandate is in place.
Customer Reviews & Testimonials
"
This has been the best bank I've used. Easy to use online banking and I always get through to someone quickly on calls. Customer service has been excellent.
Begum N
— Essex —
Had a minor problem getting a new debit card to work - 2 of M&S Bank's wonderful staff, Angela and Isabella have been so helpful and have rectified this Excellent customer service. Would definite...
Cund M
— London —
Had a small problem with getting a new debit card working and the internet banking staff Angela and Isabella have been absolutely magnificent trying to rectify the problem which has now been done...
Lincon D
— Bristol —
M&S Bank Contact Details
Contact Number
E-Mail
Website
Physical Address
Marks & Spencer, The Mall

Patchway

Bristol

BS34 5QT

United Kingdom
---
Postal Address
PO Box 10565 51 Saffron Road, Wigston , LE18 9FT, United Kingdom
Opening Hours
Monday

10:00 – 16:00

Tuesday

10:00 – 16:00

Wednesday

10:00 – 16:00

Thursday

10:00 – 16:00

Friday

10:00 – 16:00

Saturday

– Closed

Sunday

– Closed