Easy online application
Variety of loans to compare
Be free fromDebt
In-page navigation
---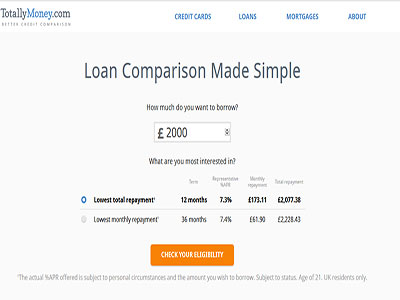 About Totally Money
Unfortunately, debt is something that a lot of people in the UK are currently struggling with.
This stressful, often overwhelming situation can leave you feeling unsure of how best to move forward.
Debt consolidation loans
Although a debt consolidation loan might not be for everyone, if it is a feasible option for you, then Totally Money is a name you want to remember. We'll help you find the right debt consolidation loan by comparing hundreds of loans so that you can find the one that best fits your financial needs.
As the fastest growing loan comparison website in the UK with thousands of users, we have a reputation of delivering only the best service and we make sure not to disappoint. We understand what you're looking for which is what makes us so good at what we do.
Leave the work to us
With so many lenders offering bad credit loans, it can become a bit of a challenge deciding which one to take. So how do you know that you are choosing the right one? Well, we've taken the worry on your behalf, all you have to do is simply choose the one you think is best for you and apply.
Totally Money Services
Debt consolidation loans are highly attractive options for people in debt because not only do they offer convenience but they also make it easier to manage your money.
Simply put, this option allows you to take out a new loan to pay off all or most of your existing debt. With a single repayment to keep up with every month, your debt becomes more manageable and hence simpler to pay off.
Fast, simple and you're in control
Get an instant decision with our eligibility checker tool. Just tell us what you're looking for and the rest is up to us. We don't believe in complicated. On the contrary, we believe that getting credit should be quite simple and most importantly, you should hold all the cards in your hands. With our eligibility checker, you can do just that.
The eligibility checker
This easy-to-use tool makes it simple for you to see how likely you are to be accepted before you even apply. You have the advantage of knowing which lenders to approach, therefore putting you firmly in the driving seat.
Totally Money Product Details
Loan Type

Debt consolidation loans
Summary of Services
Reliable loans
Immediate decisions
Quick loan comparison
Forget generic, we're personalised
We find you loans that fit your personal circumstances, in fact, loans that are perfect for you.
Taking all your information available to us, we filter out all lenders who don't match up with you, leaving you with only lenders who can offer you what you are looking for.
In addition, to make things, even easier for you, we take it one step further by listing your compatible lenders in order, from the one most likely to accept your application down to the least likely. This not only simplifies the process for you but it also saves you the time of having to figure out which lender offers the best price and rate for your circumstance- we'll do that for you.
Your credit score won't be affected
Search for the perfect quick loan freely without having to worry about your credit rating. We only run a soft credit report search, which means that only you will see the information on your credit file as opposed to a full credit check which makes your information visible to lenders.
Because you can see who you qualify for, this protects your credit rating since you'll apply only to lenders who are well-matched with you.
Your information is always safe
As our customer, your privacy is of the utmost importance to us. This is why we take serious measures to ensure that your data is always secured by using powerful encryption methods to keep it protected. Furthermore, rest assured that we will never share your information with any third party without your permission.
Zero fees and charges
That's right- no costs, no hidden fees. Using our service will not sink your wallet any further. We're completely free to use, just simply sign up, search and apply- how's that for convenience? But don just takes our word for it. See for yourself.
Improved chances of getting accepted
It's like playing a game when you know the odds are in your favour to win. Stop doing things the old-fashioned way and start making better, smarter borrowing decisions with us, and get money faster
Customer Reviews & Testimonials
"
I am busy person I was glad that they don't require any paperwork
Simone J
— London —
I was impressed about the fast application. I completed everything in an hour. Thank you Tesco-
Ivy G
— Manchester —
Totally Money Contact Details
Contact Number
E-Mail
Website
Physical Address
Chapter House, 16 Brunswick Pl, Old Street

London

England

N1 6DZ

United Kingdom
Opening Hours
Monday

09:00 – 17:00

Tuesday

09:00 – 17:00

Wednesday

09:00 – 17:00

Thursday

09:00 – 17:00

Friday

09:00 – 16:30

Saturday

– Closed

Sunday

– Closed