Peer-to-peer loans up to £5,000,000
Low-interest up to 9.50%
Repayment up to 3 years
In-page navigation
---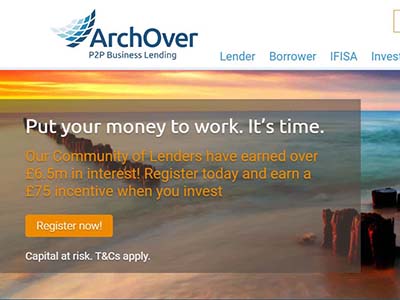 About ArchOver
Getting access to financial assistance shouldn't be reserved for only those who tick all the 'right' boxes laid out by traditional financial institutions.
For so many SMEs (small and medium enterprises), the challenge of acquiring capital is an unfortunate reality. As a result, so many find themselves stuck with little means of moving forward.
Our financial solutions
We decided to create a solution for this problem by developing a peer-to-peer lending platform that helps SMEs in the UK get the capital that they need to grow and further develop, in a more flexible way.
Secured business loan investments
Lenders can invest in secured business loans and earn returns of up to 10% p.a. So we'll connect established businesses in need of financial capital with investors looking for attractive and secure returns, it's a win-win. We have a diverse group of lenders which include Individuals, Family Offices, Corporates as well as Funds and Banking Institutions.
ArchOver Services
Register for free on our secure online platform and start browsing through our existing investment opportunities.
You can choose to invest either on a loan-by-loan basis over 3 to 36 months with the potential to earn between 6% and 10% or earn returns of up to 6.4% via our investment plan over a period of 26 months.
Secure lending practises
Your time is valued with us; say goodbye to piles of paperwork, long waiting periods and endless hours wasted in never-ending ques- our simple online platform puts an end to all of that. Simply register, browse, invest, earn and build.
Minimise loss on investments
No investment is 100% guaranteed but we can put measures in place to minimise loss. Not only are our loans secured against the borrower's assets, but every loan listed on our platform has been meticulously assessed by our highly skilled and experienced in-house credit team.
ArchOver Product Details
Loan Type

Peer-to-peer loans

Interest Rate

9.50%

Loan Amount

up to £5,000,000

Repayment

3 months to 3 years
Summary of Services
The decision in 48 hours
Flexible financing
No personal guarantees
We believe every business is unique with its own vision and mission
At ArchOver we work had to develop a solution that best fits the needs of your business, laying a strong foundation for you to take your business to the next level.
You get a fixed term and fixed-rate loan with no hidden fees. Furthermore, the more security you can provide, the lower your interest rate will be.
Information at your fingertips
All our investors have access to important information regarding every quick loan opportunity on our platform. The details of the company, the rate, the loan term and the loan security type are all made available to our lenders so that you can confidently select which projects you would like to invest in. You control your money. You control your investments. We simply allow you to make it happen.
Our investment plan
Open to both businesses and individuals, our Investment Plan offers an alternative to investing on a loan-by-loan basis. Starting from a minimum investment amount of £250, this option is designed for the less hands-on lender, but not to worry, you still get great rewards. With this option, lenders can invest in an automated basis across a portfolio of loans.
This is great for investors who don't have the time to individually select every project they want to invest in. Rather, you can set for your funds to be automatically deployed on your behalf. There is no set-up or any other fees and interest is paid monthly.
Loan-by-loan basis
For investors who enjoy a little more agency, you can opt to manually invest by selecting projects one-by-one. The minimum investment amount is £1000 with interest paid monthly.
A little more on our loan security
In addition to all loans being pre-screened and verified, we take it one step further and meet with the borrower's management team (once during the assessment period and at least twice a year during the course of the online loan) because we believe that the best security is provided by a good management team.
All this is done to ensure that we only approve creditworthy businesses, giving you some peace of mind whenever you lend to our borrowers. When a project has been funded, we will continue to monitor it throughout until the loan has been fully repaid. We do this by acquiring information from the borrower on a monthly basis which allows us to keep track of the project's progress as well as the security provided (for the loan).
Customer Reviews & Testimonials
"
Well trained and knowledgeable staff
Eric B
— London —
I will return to this company they are reliable and put customers first
Will D
— Manchester —
Very efficient staff
Jeremy W
— Cardiff —
ArchOver Contact Details
Contact Number
E-Mail
Website
Physical Address
40 Gracechurch St

London

England

EC3V 0BT

United Kingdom
Opening Hours
Monday

09:00 – 17:30

Tuesday

09:00 – 17:30

Wednesday

09:00 – 17:30

Thursday

09:00 – 17:30

Friday

09:00 – 17:30

Saturday

– Closed

Sunday

– Closed