Peer-to-peer loans up to £5,000,000
Fixed interest rates
Repayment up to 5 years
In-page navigation
---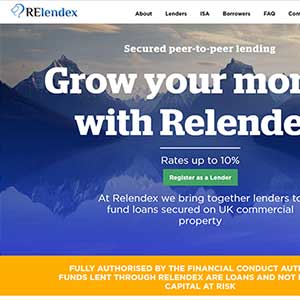 About Relendex
Relendex stands for Real Estate Lending Exchange
Loans are from £250,000 to £5million and can be borrowed over 6 months to 5 years. We don't charge any fees for lending on our platform.
Our resale marketplace
We are a UK-based peer-to-peer lending platform offering great benefits for both borrowers and investors within the commercial property sector. We do this by connecting lenders to borrowers in a way that allows them to achieve their needs and goals more efficiently: lenders loan directly to borrowers, eliminating any unnecessary fees and earning attractive returns, while borrowers can access much-needed home loans quicker and at better rates.
We offer lenders more flexibility
We have what we call our resale marketplace. This is a secondary market which simply allows lenders to buy and sell their loan parts before the loan period expires. No loan part will be listed if it is subject to default. In other words, all loan parts need to be approved by us for sale so that we can ensure that the loan is performing well and that buyers can have the same confidence in the loan like the original lender.
Relendex Services
We facilitate funding for commercial property investments, developments, as well as bridging short-term loans.
We are extremely meticulous when it comes to who we allow borrowing from our lenders, which is why we have an experienced team that thoroughly assesses and carries out an extensive due diligence process.
Who can invest with us?
The people who borrow through us are usually experienced, property investors and developers. We provide opportunities for a variety of different investors, including individuals, high net worth individuals, family offices, corporates, investment funds, wealth managers, private banks, trusts as well as corporate and private pensions funds.
Your funding options
You can either fund the entire personal or business loan as the sole investor or you can be one of many lenders for a particular project. The minimum investment amount is £500. We also accept international lenders, with the exception of US citizens. So, as a lender, you can have the peace of mind of knowing that we offer only the best investment opportunities for you.
Relendex Product Details
Loan Type

Peer-to-peer loans

Loan Amount

up to £5,000,000

Repayment

6 months to 5 years
Summary of Services
Efficient loans
Operational costs are low
Flexible terms
Putting you firmly in control
Lending through our peer-to-peer platform means that you are in control of your investments
Unlike how banks work we are different. You 100% control which projects you want to invest in and because you are lending directly to the borrower, you can monitor your investment and keep track of it more conveniently.
What do we mean by asset security?
This is just one of the ways we work to ensure that every investor can have a successful investment with us. When you lend money to a borrower, the borrower needs to secure your loan with an asset that they own as a form of collateral. All this is to try to ensure that lenders can still earn back their capital even if the borrower is later unable to repay the loan. The asset will be sold to recover the lender's capital.
Earn interest as an investor
Lenders can immediately start earning interest without having to wait for the loan to close and be drawn down. Because the RMP makes it possible for investors to spread their investments across many different loans, this provides lenders with the opportunity to diversify their portfolios, therefore helping to minimise the risk of making a huge loss on investments.
Get all the information you need
We provide you with detailed information about every online loan on our platform, including the name of the property, the risk rating, loan amount, term, average interest rate, executive summaries, valuation reports etc. This is important information we provide to you so you can always know what is going on.
Innovative finance ISA
Opening an Innovative Finance ISA with us lets you invest up to £20,000 tax-free. You can let your money work for you while you enjoy interest rates of up to 10% p.a. Choose between two ISAs: Self-Select (you choose exactly which loans to invest in) and Secured-Portfolio (we create your portfolio for you).
Customer Reviews & Testimonials
"
Reasonable and low rates
Florence L
— Bath —
Quick and simple online application
Thomas H
— York —
Excellent customer service
William N
— Cardiff —
Relendex Contact Details
Contact Number
E-Mail
Website
Physical Address
99-100 Turnmill St, Farringdon

London

England

EC1M 5QP

United Kingdom
Opening Hours
Monday

09:00 – 17:30

Tuesday

09:00 – 17:30

Wednesday

09:00 – 17:30

Thursday

09:00 – 17:30

Friday

09:00 – 17:30

Saturday

– Closed

Sunday

– Closed