Peer-to-peer loans up to £15,000,000
Early repayment
No additional costs
In-page navigation
---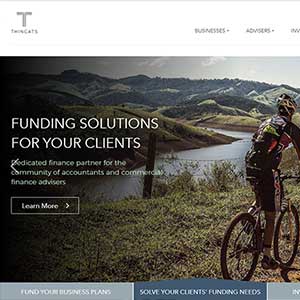 About Thin Cats
As a business owner, you are bound to face challenges along the way. It's part of the deal.
One of these challenges is that of capital. So many businesses find themselves stuck in a rut unable to move forward because of a lack of capital. This is especially true for small and medium-sized businesses (SMEs).
A peer-to-peer secured lending platform
We aim to gain access to an alternative money lending market so that they can be able to grow and further develop; all the while helping investors earn great returns of up to 8%.
Fund your SMEs
We recognise that SMEs are the backbones of so many communities and are the keys to unlocking so many opportunities for growth. So if you are an SME in need of a business loan to help you get to the next level, don't hesitate. Get in touch today to secure a loan starting from £100k to £10million.
Thin Cats Services
Our peer-to-peer lending platform allows you to lend money directly to corporate businesses across a variety of industry sectors and regions all over the UK.
You are not just another application waiting in line, you are a vital member of society helping to grow the local economy and bring about positive change as a result.
You are in control of your investments
Investors have complete control over their investment portfolio, ensuring that you are always in charge of where your money goes and ultimately, how it works for you. Investing in a variety of different projects will allow you to diversify your investments, which in turn helps you to spread your risk.
We will inform you of the best investment
Don't worry about not knowing which investment is best for you, we'll provide you with adequate information on each online loan. You will receive all the vital information like credit and security ratings. Your loans (except for community and social loans) are secured against the borrower's asset, protecting your investment should the borrower have difficulty in paying back the loan.
Thin Cats Product Details
Loan Type

Peer-to-peer loans

Loan Amount

up to £15,000,000
Summary of Services
No penalty fees
Affordable rates
Flexible financing
Personalised service
Unlike other financial institutions, we pride ourselves on truly personal service to you.
By creating a platform that connects borrowers to investors in a more direct way, we are helping individuals to penetrate the market while businesses are afforded opportunities to grow. It's a win-win.
Why should you borrow through us?
We look at your business as a whole to give you a fair decision on your online loan application. We understand that your situation is unique to you and so are your business loan needs. There is no 'one fits all' mould with us. You can be certain that we will create a solution uniquely suited to your needs and provide you with the best assistance to move your business forward.
Buy and sell on our secondary market
If you are looking to access your funds quicker, before the loan term ends, we have a Secondary Market available to all our investors to buy or sell their loans to other willing investors. This is another way we stand out from banks- by providing you with so much more flexibility with your investments.
Use your pension to invest
You can use your pension to lend on our platform to earn attractive returns (possibly tax-free) with tax relief on your contributions. The two types of pension we allow are SIPP (Self Invested Personal Pension) and SSAS (Small Self-Administered Scheme).
Our team is always ready
Just give us a call and we will help the transaction between you and our investors to be as smooth as possible. You can always trust that we will deliver on our promise. We accept nothing less. The number one factor we require from businesses that approach us for assistance is commitment and drive to succeed. After all, our aim is to give you that extra bit of help you need to cross the line.
Customer Reviews & Testimonials
"
Excellent service thanks for making me feel at ease while sorting out my loan
Jessy B
— Brighton —
Very helpful and understanding. I can recommend this to someone else
Mathew H
— Liverpool —
Quick service and friendly staff
Luke J
— London —
Thin Cats Contact Details
Contact Number
E-Mail
Website
Physical Address
2 & 3 Charterpoint Way

Ashby-de-la-Zouch

England

LE65 1NF

United Kingdom
Opening Hours
Monday

09:00 – 17:00

Tuesday

09:00 – 17:00

Wednesday

09:00 – 17:00

Thursday

09:00 – 17:00

Friday

09:00 – 17:00

Saturday

– Closed

Sunday

– Closed