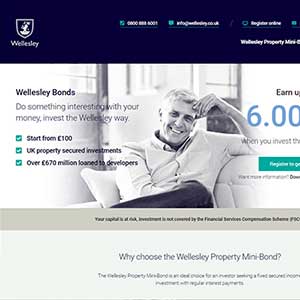 About Wellesley
If you are looking for funding for your property, you have come to the right place
We are a peer-to-peer lending platform providing the UK with alternative property funding for credit-worthy house-builders (borrowers) while at the same time helping lenders earn competitive returns of up to 6% p.a. on their investments.
We offer better returns
We combine innovation with tradition, bringing you a modern approach to the lending and borrowing market while holding onto our traditional values of putting your best interests and needs first.
Invest through us
Both individuals and UK businesses can invest through us, starting at £1,000 (with no maximum amount); borrowers usually borrow between £2 million to £20 million. With more than 280 loans made, over 3600 developments built and the average interest rate earned by lenders being 4.11%, we are confident that we can meet your expectations and help you to achieve your goals.
Wellesley Services
Investing through us means we put in all the hard work so you can have less to worry about
Forget worrying about the creditworthiness of our borrowers because we make sure to only approve those who have passed our rigorous assessments performed by our Credit Committee.
Diversification of investments
Another thing you don't have to worry about is deciding who to invest in since we will invest your funds on your behalf. Our experience proves that we are highly knowledgeable in choosing the best investments for you- so you can put your trust in us. We spread your funds across different loans (personal loans, business loans and home loans), allowing diversification, giving you a more secure investment.
Our secured loans
All our loans are asset secured primarily against UK residential property, providing a safety blanket for our lenders in case a loan default. If a loan does default, we can sell the asset in order to recover outstanding funds. However, although this does offer some protection, there is unfortunately always the possibility of still making a loss.
Wellesley Product Details
Loan Type

Peer-to-peer loans
Summary of Services
Peer-to-Peer Loans
Investments
Peer-to-peer lending assistance you can rely on
Our objective is for you to have a smooth experience with us.
That's why we have a team that is readily available to guide you along the way and offer you support wherever you might need it.
With us, you get higher returns
Our number one priority when it comes to our investors is to provide you with higher returns than what banks offer you. We connect you directly to borrowers (small businesses and individuals), cutting out any third party that comes with frustrating additional fees. As a result, you end up saving more of your money, leaving you with more to put back into your investment. In addition, we contribute our own funds into every online loan that we make, thereby affording our investors more confidence.
Funding tailored to the borrower's needs
Every application is assessed on its own merits with the aim to tailor-make a price suitable for the borrower and the project. We want your project to become a success, therefore we'll advise you to help you minimise your risk while maximising your project's profitability.
Monitoring loans; standard and enhanced monitoring
We closely monitor all loans to evaluate how well they perform. Loan performance is judged by the loan security value in relation to the loan itself. In other words, we look at the value of the loan security and analyse whether or not it will be sufficient enough to cover the loan-principle as well as the interest.
Given the highly complex property development lending environment, we make use of standard and enhanced monitoring techniques to help us keep track of every quick loan. These techniques are used in relation to the risks and performance of each loan.
Customer Reviews & Testimonials
"
The customer service was excellent, everyone I saw and spoke to was very friendly and inviting
Noah W
— London —
They helped me to get a loan in 24 hours
Ethan B
— Liverpool —
Wellesley Contact Details
Contact Number
E-Mail
Website
Physical Address
St Albans House, 57/59 Haymarket

London

England

SW1Y 4QX

United Kingdom
Opening Hours
Monday

08:30 – 17:30

Tuesday

08:30 – 17:30

Wednesday

08:30 – 17:30

Thursday

08:30 – 17:30

Friday

08:30 – 17:30

Saturday

– Closed

Sunday

– Closed