Low-interest starting from 3.59%
Efficient and reliable
Repayment up to 5 years
In-page navigation
---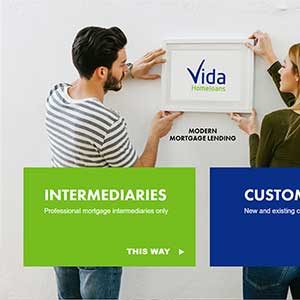 About Vida Home Loans
Those who want excellence in their property finance in the UK choose Vida Homeloans and our magnificent mortgage offers.
We are a modern mortgage lender for non-high street cases, and use the latest technology to constantly improve our efficiency and reliability. Our experienced mortgage team is backed by much private equity and does not use legacy processes or systems, but rather designs everything.
Our commitment to payment transparency
In cooperation with the Council of Mortgage Lenders and our tariff of mortgage, charges are user-friendly and do not feature many charges and fees that our competitors might levy. This tariff of mortgage charges reflects this initiative's excellent practice principles and is used throughout our industry to improve payment transparency and industry competition for the sake of our customers.
We continually improve our prices
This month, we have overhauled our residential and buy to let product range, so that many of our residential products' rates have lessened by up to 0.35%, and many of our buy to let offers have had their rates reduced by up to 0.50%.
New build houses and flats can receive up to 90% loan-to-value for residential and 85% for buy to let, offering 6 months with an additional 6 months extension available, and accepting a completion certificate instead of a re-inspection. Whereas ex-local authority flats outside of Greater London, for both residential and buy to let, used to have a minimum property value of £125,000, they now can be £80,000. Inside of Greater London, the minimum property value is £200,000.
Vida Home Loans Services
We wish to provide all our loyal customers with the best property and personal loan finance in the UK that we can possibly organise.
Our fee saver range excludes product fees and allows for one free valuation on properties up to £500,000, both for residential and buy to let. The residential fee saver range provides free standard legal on remortgages, and buy to let fee saver only asks for a £200 contribution.
Better buy to let payments with us
Our buy to let products include 2-year fixed period with only a 3.14% rate and a 5-year fixed period with only a 3.59% rate. We can now provide 85% loan-to-value for loans up to £250,000 for properties outside the M25, but not for first-time landlords or buyers. Expatriate buy to let applicants who are non-EEA residents can now receive up to 75%, no longer 65%, loan-to-value, though Australian expats receive up to 60% loan-to-value.
Flexibility in our buy to let offers
With us, buy to let houses of multiple occupancies can have up to 8 bedrooms and multi-unit blocks can have up to 5 units. In both cases, you require only 1 year's landlord experience and only a minimum 130% rental cover. Older and retired landlords receive an interest-only deal with up to 85% loan-to-value, a minimum age of 95 in the case of limited companies for your term's end, and no minimum income restriction.
Trading limited companies just need to present 1 year's accounts, and SPVs do not require a floating charge. In terms of challenging credit, we allow for small or life events, 2 CCJs, 2 missed mortgages, and up to 70% loan-to-value.
Vida Home Loans Product Details
Loan Type

Home loans

Interest Rate

from 3.59%

Repayment

5 years
Summary of Services
Simple loan application
Flexible offers
Affordable interest rates
Exemplary products and competitive prices at Vida Homeloans
Our great offers for your property finance in the UK will be accompanied by a very smooth lending process.
Vida Homeloans does not deal directly with clients but instead are committed to distributing them to authorised and professional mortgage advisers. You can change the font size of our website using our browser setting, and we use cascading style sheets for all our visual layouts. We are a credit union and we will work hard to get the perfect loan for your circumstances.
Residential mortgages with affordability in mind
Our residential mortgages include a 2-year fixed rate of 2.94% or a 5-year fixed rate of 3.54%, and our revert rate ranges between 0.10% and 0.20%. Residential home movers whose mortgages are up to £400,000 can now lend up to 90% loan-to-value, and debt consolidation with us allows for up to 75%, and no longer just up to 70%, loan-to-value.
When your residential mortgage works for you
Interest-only residential mortgages with us include up to 75% interest only and permits you your own investment vehicle or downsizing. Residential loans require at least one applicant to have a minimum income of £15,000, although income from second jobs is also included, and only 12 months of work history is required. First-time buyers get up to 90% loan-to-value, which includes product fees, with full gifted deposits considered.
Bad credit home loans
In terms of challenging bad credit history, we accept small or life events, debt management plans, and minor unsecured arrears in the last 6 months. We also accept 6-month contracts or rolling 3-month contracts that are renewed at least once, and we only need 1 year's track record of employment in the same work.
You can have up to 4 applicants and have all their incomes considered, but the main applicant must be 21 or over. Self-employed clients must provide 1 year's verified accounts or SA302, and all products allow net profit and dividends to be considered eligible. It is clear that property finance in the UK with Vida Homeloans is the discerning consumer's choice.
Customer Reviews & Testimonials
"
They gave me a home loan despite me having bad credit. Thank you, Vida Home Loans
Lewis P
— London —
They are very transparent. They informed me about all the costs that come with repaying the loan
Iris J
— Leeds —
They have the best offers I have seen! I would recommend them to anyone
Denice T
— York —
Vida Home Loans Contact Details
Contact Number
E-Mail
Website
Physical Address
1 Bridge St

Staines

England

TW18 4TW

United Kingdom
Opening Hours
Monday

09:00 – 17:00

Tuesday

09:00 – 17:00

Wednesday

10:00 – 17:00

Thursday

09:00 – 17:00

Friday

09:00 – 17:00

Saturday

– Closed

Sunday

– Closed